NEWS
'Dancing With the Stars: All-Stars' Recap: Who Scores the First 9 of the Season?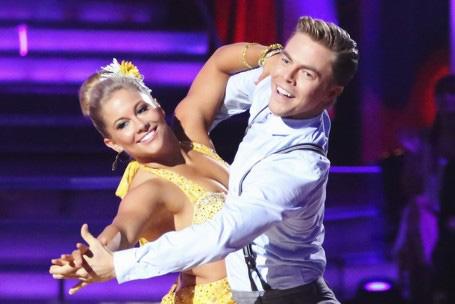 Article continues below advertisement
Melissa Rycroft & Tony Dovolani
Song: "You Make Me Wanna Shout" by Little Richard
A rib injury sidelined Melissa from performing the jive with partner, Tony, during their original stint on the show. Judges only had rehearsal footage to base their scores on. This time around, Melissa and Tony were ready and injury-free.
Len said Tony and Melissa set the bar high for the night. Bruno called the reality star "the fastest girl in town," but believed there was one point where her foot went wrong. Len disagreed, and while the two argued, Carrie Ann reassured Melissa: "You were born to jive."
Scores: 8, 8, 7.5 = 23.5 out of 30.
Bristol Palin & Mark Ballas
Song: "Redneck Woman" by Gretchen Wilson
Going to a shooting range instead of practicing the jive doesn't sound like a good idea when competing in DWTS: All-Stars. And after watching Bristol and Mark's western-inspired routine, perhaps they shouldn't have gone on a field trip this week. "You were not in hold enough," Bruno complains. Carrie Ann thinks Bristol has improved, but their broken hold in the middle of the dance was a major no-no. Len agrees – what was Mark thinking? Mom Sarah Palin was in the audience again, and watched her daughter walk away with the night's lowest score.
Article continues below advertisement
Scores: 6, 6, 6 = 18 out of 30.
Helio Castroneves & Chelsie Hightwoer
Song: "Everybody Talks" by Neon Trees
Talk about the perks of being Helio's dancing pro partner! Taking Chelsie to the track, he showed her what it was like to go IndyCar driving - and she screamed the whole time. Did their jive leave the judges as breathless?
Carrie Ann was a little bit underwhelmed, but admitted that his body was finally catching up to this charm. Len loved Helio's style with a smile and Bruno believed it to be a delicious treat.
Apolo Anton Ohno & Karina Smirnoff
Song: "Five Months, Two Weeks, Two Days" by Louis Prima
As an Olympian, if you're not in the top three then you're not on the podium," Apolo laments after last week's performance put him and Karina in fourth place. During rehearsals he's having some trouble with the quickstep – and who better to go to for some advice than Siri? Karina wants her partner to take the lead, and she makes that very clear with a swift kick to Apolo's face. Just kidding. It was an accident. Or was it?
Article continues below advertisement
In any event, message received! Apolo and Karina debut the quickstep routine and their feet never stop moving. Len shouted, "Gold medal!" while Bruno said what we were all thinking: "Your footwork was incredible." Carrie Ann joked, "Somebody put his competition pants on tonight." The dancing pair beamed with pride as they awaited the judges' scores.
Scores: 8.5, 8, 8 = 24.5 out of 30
Sabrina Bryan & Louis van Amstel
Song: "Black Betty" by Ram Jam
During rehearsals, Louis drops Sabrina on the stairs, resulting in a little bit of blood. Do they keep the move in the final quickstep routine? They do! The audience's collective breath is held until the Cheetah Girl finds herself safe and secure in Louis' arms.
"Oh, my God, is it Miss Ginger Rogers at her best?" Bruno asked. "A dazzler! A true dazzler," he added. Carrie Ann praised Sabrina's top line, while Len complained, "The hits just keep on coming this season!" Sabrina and Louis have won over the judges this week – and were rewarded with the season's first 9, courtesy of Carrie Ann!
Article continues below advertisement
Scores: 9, 8.5, 8.5 = 26 out of 30
Kirstie Alley & Maksim Chmerkovskiy
While Kirstie thought she was showing this jive she meant business, Maks retreated to his car for latex gloves. Why did he have latex gloves in his car? No one seemed to know. He tied the gloves together, creating a resistance band of sorts for his partner's knees. "It was a little creepy, a little effective and definitely Fifty Shades of Maks," Kirstie laughed.
Despite her best efforts, Maks wants more from his partner. "You're not moving. You're not active. This competition is a bunch of 20-year-old f**king Olympians. What are you doing here? Move!" While she may be young at heart, the actress reminds America that, "three lifetimes of Shawn is how old I am."
Looking almost unrecognizable in her costume, Kirstie showed the judges and the jive what she was made of. Carrie Ann purred, "Mamacita, you were working that pole!" Len believed the French-inspired dance to be a "great improvement on last week" and the scores reflected this. Bruno professed, "The girl works hard for her money!"
MORE ON:
Dancing With the Stars
Article continues below advertisement
Scores: 7, 7, 7 = 21 out of 30
Emmitt Smith & Cheryl Burke
Song: "A Cool Cat In Town" by Tape Five
The former NFL running back isn't intimidated by much these days – certainly not Apolo's moves. After dancing the encore performance last week, Cheryl and Emmitt work on mastering another routine, the quickstep.
Len complains that the athlete's upper body was lacking, and Bruno agrees. The framing wasn't quite right, but his chemistry with Cheryl was undeniable. Carrie Ann warned Emmitt – you might want to keep an eye on the speed skater and racecar driver. They did better than him this week.
Scores: 7.5, 7.5, 7.5 = 22.5 out of 30
Drew Lachey & Anna Trebunskaya
Song: "Dance Dance" by Fall Out Boy
The couple needs to wow viewers this week with their jive. Much to Drew's chagrin, the two practice a slap featured in the routine quite a few times. He calls his face "the moneymaker" and explains that's "why I'm broke." No more 98 Degrees royalty checks?
Drew and Anna take on the jive dressed up as one hot punk rock couple. Bruno thought the singer looked rough and ready, but cautioned him about getting flatfooted on the dance floor. Carrie Ann said, "Welcome home, Drew!" and Len reassured the former Mirror Ball champ that he wouldn't be "Bottom Two Drew" this week.
Article continues below advertisement
Scores: 7.5, 7.5, 7.5 = 22.5 out of 30
Joey Fatone & Kym Johnson
Song: "Creep" by Richard Cheese
Joey found himself wound up during his quickstep rehearsals with Kym. Despite his "large waist line," the couple was determined to move up the ranks this week. Dressed as Charlie Chaplin, Joey added some comedy to the dance routine. Entertained we were, but when it came down to the technical side of things, the judges weren't too impressed.
Carrie Ann praised their performance, but explained that Joey went out of sync twice. Len read off the short list he'd constructed of mistakes the two made: poor posture, bad footwork, lost body contact, frame wasn't constant… just to name a few. "This is the secret: If you can't dance much, come out and entertain us," Len explained, "and that's what you came out and did." Bruno told Joey that what he does is entertainment; that's what i's all about — and the judges love him for it. However, technically, it could have been better.
Article continues below advertisement
Scores: 7.5, 7.5, 7.5 = 22.5 out of 30
Shawn Johnson & Derek Hough
Song: "The Nicest Kids in Town" from Hairspray
During rehearsals, Shawn convinces Derek to add a cartwheel down the stairs during their jive. While the routine could easily have come off as corny, Carrie Ann crowned the two 'All Star Sweethearts'.
Len thought, "it was just enough jive" which is better than not enough jive, right? "I don't know what you want more, but you won't get it," Bruno replied. He thought the performance was exhilarating and eye-popping.
Scores: 8.5, 8, 8.5 = 25 out of 30
Kelly Monaco & Val Chmerkovskiy
Song: "Who Says" by Selena Gomez
After Val complains that Kelly's too bouncy, she believes that if she could make him go through rehearsals with a set of big fake boobs, he would understand where all that bounce was coming from. Well, I guess water balloons in a bra will have to do.
The couple's quickstep is set in a fairy tale, but the judges' critique wasn't all that dreamy. Bruno warned the former champion to watch herself in hold after messing up a few of the steps. Carrie Ann advised the General Hospital star to dance bigger since she's so tiny. Len basically contradicted everything that the other two judges said — so things got a little bit confusing.
Article continues below advertisement
Scores: 7.5, 7, 7.5 = 22 out of 30
Gilles Marini & Peta Mergatroyd
Song: "Don't Stop Me Now" by Queen
Sidelined by a hamstring injury during rehearsals, no one could predict how Gilles and Peta would fare with the jive. With a kick and flick, the Switched at Birth star reassured everyone things were just fine.
Carrie Ann said, "I see a little John Travolta thing happening here, and it's quite enjoyable." Len thought it was a fast attack, dynamic and fabulous. Bruno shouted, "Let the good times roll!" While he and Peta waited for their scores, Gilles took a moment to dedicate the routine to his father, who passed away 17 years ago that night.