NEWS
OK! Exclusive: Dean McDermott Talks New Cookbook, New Career And Keeping His Sobriety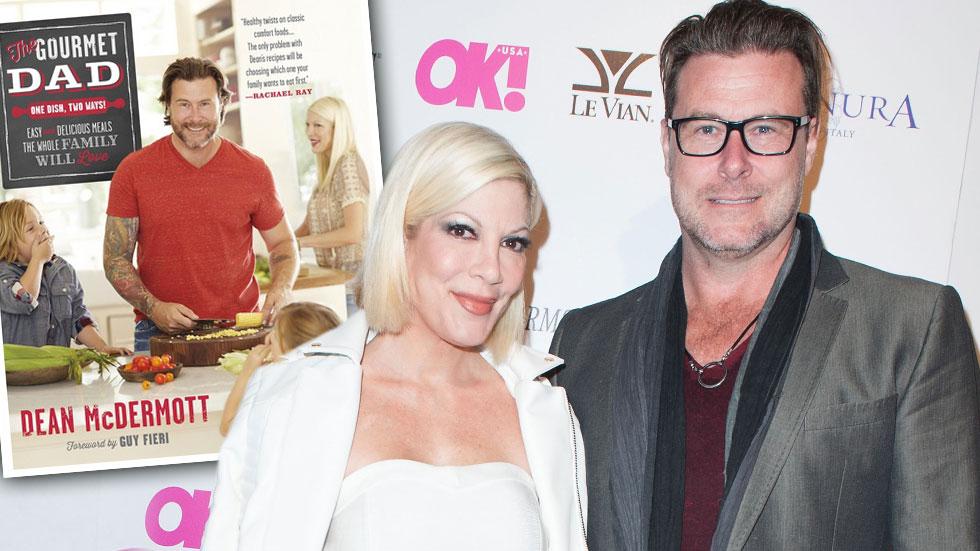 Dean McDermott is going from reality TV to recipes!
The True Tori star spoke with OK! Magazine about his new cookbook, The Gourmet Dad, which comes out April 28. In the cookbook dedicated to his wife Tori Spelling, McDermott finds ways to make gourmet meals appealing for picky-eating kids.
OK! caught up with the pro chef and former host of Chopped Canada to discuss his return to the kitchen, how his new cookbook helped get his sobriety back on track, the future of his reality show and whether or not he and Tori will be adding another place setting to their table.
Article continues below advertisement
OK!: Why did you decide to write the cookbook The Gourmet Dad?
McDermott: "Honestly, I got tired of being the short order cook. I have quite a big brood. There's 5 of them and I just got tired of being a short order cook. We're making a grownup dinner or lunch or breakfast and this one wants butter noodles, this one wants mac n cheese. I just got tired of making different dishes aside from the main dinner or whatever lunch it was. And also growing up, we ate what our parents ate. We didn't have an option. It was like this is what is for lunch, this is what's for dinner. If you're not going to eat it, you're going to go hungry. So I just thought, 'Enough. I'm going to show parents and grownups how to make a gourmet meal and using the same ingredients with a few omissions and some creative tips and tricks, make it kid friendly.' So you're training your kids' palate as well."
PHOTOS: Tori Spelling Takes Her Kids Shoe Shopping
OK!: It's about training the kids appetite?
McDermott: "Training their palates to a more grownup menu. So The Gourmet Dad was born. My mom got me into cooking, so I really loved the Sunday dinner. It didn't matter where you were or who you were with, you could have been with the President of the United States, you made it home on Sunday for dry pot roast and overcooked mushy veggies. It was awesome because it was just about bringing everybody together and catching up on everbody's life and just being a family. Just real simple thing of just being together and that's what I love about cooking and The Gourmet Dad because it brings the kids into the kitchen. I am a big fan of having the kids in the kitchen and having them depending on their age, on sort of every different station there is in the kitchen just like a restaurant kitchen."
Article continues below advertisement
PHOTOS: Does Tori Spelling Regret Plastic Surgery?
OK!: Who is the most helpful in the kitchen and why?
McDermott: "Stella. Stella she is our resident foodie. She eats anything and everything and will try anything. She's about to turn 7 and she's a sashimi fanatic. She loves to go for sushi and does trust the chef. She's my biggest help because she also, she's really interested in it. She's really crafty. She loves arts and crafts, so the two go hand-in-hand. She loves to bake and she has a genuine interest in it. So she is always eager to help and eager to learn. She's my most advanced in the kitchen. I have her working with a pairing knife, where I've taught her technique and I've taught her how to cut properly."
PHOTOS: Tori Spelling Gives Marriage Update
OK!: Sounds like your family is getting very involved in the kitchen and you are spending a lot of time with your family. Being around your family, how is that helping with your recovery and how are you doing since your rehab stay?
McDermott: "It goes hand in hand. It's really amazing to be in recovery and be present as a husband and a father. It just makes all those things that you do to together more enjoyable because I am actually present and there. So it's wonderful and it's amazing how it works hand-in-hand with cooking because it is, it is about whether you are the only one in the kitchen making the meal. At the end of it, you are all sitting down together having it. So it's great. And it's also to get out of my head those times when things get a little crazy and it's very therapeutic. Cooking is very therapeutic."
Article continues below advertisement
PHOTOS: See Tori Spelling And Dean McDermott's Holiday Card
OK!: And your recovery?
McDermott: "Yes! I've got a year and four months and counting. So things are going really well."
OK!: What are some of the daily challenges you face with dealing your recovery? How do you talk yourself to staying on track?
McDermott: "The daily challenges are my thought process. The craving is gone away. But it's more sort of dealing with how I think and how I see things. And prayer and meditation help out a lot, a lot! It's amazing to have a spiritual practice in your life and how much that can really help you on a day to day basis."
PHOTOS: 5 Reasons Dean McDermott Quit True Tori
OK!: How would you describe the status of your marriage with Tori right now?
McDermott: "Amazing. Amazing. Better than ever. We're closer and stronger because we went through a lot in a very short period of time and we worked on a lot of things, the number one thing being our communication skills and things are great. We're on fire. It's awesome."
OK!: Any plans to renew your vows again?
Article continues below advertisement
McDermott: "Laughs. I'm sure we will but we're very romantic and I'm sure that another vow renewal will be there down the road."
OK!: What's the key to putting all the crazy stuff in the past for your marriage? Like the cheating rumors and that stuff – how do you guys put that behind you?
McDermott: "Well, you know, I mean rumors are rumors. They're unfortunate that it happens. But you try your best to give it any thought or anything, because if you give it thought, you give it some sort of credibility, which it is not credible at all. The whole rumor gossip mill, it's pathetic and annoying but unfortunately it's part of our business and what happens in this world. So basically as far as that goes, we just don't give it any thought and just get in the kitchen and dial the pots and pans and have fun with our family."
PHOTOS: 15 TMI Photos Of Celebrities In The Hospital
OK!: There have been some reports that Tori was in and out the hospital this year. How is she doing?
McDermott: "She's doing okay. She's doing okay."
OK!: Any status on True Tori coming back? There are reports out there it was canceled – and I know you're not involved in it anymore, but do you know anything?
McDermott: "It's not going to come back. I think for myself it was a little too much of putting me out there for me. It wasn't sitting right for me anymore. And it was up to Tori if she wanted to continue and I think we both kind of had enough of living in that realm. We're trying to get things a little more private again and just take a step back and just have fun with our family and our relationship and eat a lot."
Article continues below advertisement
PHOTOS: 22 Couples Who Divorced After Appearing on Reality TV Together
OK!: I read some things that you are trying to do some serious acting and that you parted ways with Chopped. What are your plans in the future workwise besides your cookbook?
McDermott: "Right now, I'm just focusing on the cookbook. It's kind of it's great timing because I have a lot of time to focus on the book instead of spreading myself really thin. But I've got a couple of things in the fire. One of them is a couple of specials with the cooking channel with the family, possibly something travel wise. But other than that just really focusing on getting back into scripted television because it's my first love and that's what I am. It's in my blood and that's what I need."
OK!: When you say the cooking channel, are you talking about here or in Canada?
McDermott: "Here. Cooking Channel US. Yeah! It's going to be fun and then as far as Chopped Canada, I don't know what their decision was there. Laughs. But it's the nature of the business. I wish them all the best. It's a great show. It's a great franchise and I hope it continues it as long as the one in the states because it just highlights all these great young chefs who are really competitive and creative. It's great for them."
Article continues below advertisement
PHOTOS: 8 Female Celebs That Are Richer Than Their Significant Others
OK!: Do you have any plans for anymore cookbooks?
McDermott: "I would love love to do more. They're really intense. They're a labor of love. It's a lot of hard work. So that's why I laugh when people are like, 'I can do a cook book or you're such a cook so and so, you should do a cook book.' Yeah go for it! It's really hard but you know what? The learning process and the creative process is incredible so I would love to continue to do cookbooks and work with Harloquin. They signed me on and I think The Gourmet Dad is an awesome cookbook and I think that it will pave the way for more."
OK!: Any more plans for any more kids?
McDermott: "Laughs. Um? I guess never say never. We love our kids and we make beautiful babies. I would say, not likely. But never say never."
The Gourmet Dad hits bookshelves on April 28.