NEWS
Demi Lovato's Mega-Tweet Love Letter to Her Fans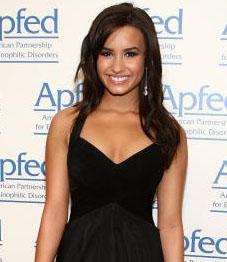 As anyone who's ever tried to communicate more than a single thought at a time on Twitter knows too well, there's a strict 140-character limit to each Tweet you post. So, you've either got to keep it short and sweet, or if you're pop star Demi Lovato, you just keep Tweeting until you're finished saying what you've got to say.
Which is exactly what happened late Thursday night, when Demi decided she wanted to explain to her fans just how important they are to her.
Article continues below advertisement
After performing a live online concert for her Facebook fans, sat down and explained — over the course of seven full Tweets — let her followers know the following:
For an hour and a half every single night, I get to connect with thousands of strangers through music.. and no matter what I'm going...

through, no matter what my fans are going through, we're able to sing face to face and connect through music. We're able to forget...

about any problems or any issues in our lives or the rest of the world and do nothing but sing to one another. THAT'S why I love tour.

Tonight I just honestly had a moment where I didn't have any confidence. Simple as that. And it can be so difficult going out on stage...

in front of a crowd not feeling beautiful enough, or just good enough.. but you know what... Tonight lifted my spirits so high, and...

I can't thank you guys enough. You aren't just fans who are there for me when I need you, but you are my friends. Cheering me on 100%.

I love you all so much.
Speaking of Twitter, be sure to follow OK! at Twitter.com/okmagazine