NEWS
Derek Hough's DWTS Blog: Jiving Our Way to the Top!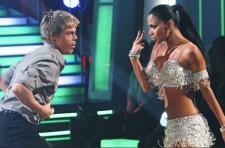 Dancing With the Stars pro Derek Hough has teamed up with OK! to update you every week as he attempts to turn his partner Nicole Scherzinger into a ballroom champion!
Hi, everyone! Welcome to my OK! Dancing with the Stars blog! Well, week two of the competition was great for Nicole and me, as we got an incredible score with two perfect 10s for our jive. We were again atop the leader board. We were thrilled but it also scares me. It's such a high score for so early in the competition. I'll have to trip Nicole up or something this week so she doesn't get an ego — just kidding!
Article continues below advertisement
DEREK HOUGH'S DWTS BLOG — WHAT A WAY TO START!
But seriously, while we were dancing on Monday night, I could tell it was going well because when Nicole performs, she makes noises. She goes," Whoo! All right! Yeah!" She makes sounds to pump herself up and keep the dance going. As a matter of fact, we're both very vocal. We're both talking to each other throughout the dance. It's nice to hear that.
However, I kept looking in her eyes and it's unbelievable how nervous she is. Nicole plays it like she's confident and strong but she has to get into gear like everybody else. Dancing is a scary experience for her. Also on Monday night, I felt I've never worked harder during a dance in my entire time on the show. It was extremely fast and I'm just glad the judges rewarded us.
OK! NEWS: SHANNEN DOHERTY ON DWTS ELIMINATION — IT'S FATE
As you saw on TV, a lot of the couples had tiffs in rehearsal, but Nicole and I have been getting along great, amazing for all the hours we spend together. We have chemistry and a clear understanding of each other. Our personalities are very similar. We have the same sense of humor and we share a strong work ethic. Nicole also has pointed out that we both come from big families, so we're grounded and know what's important.
Article continues below advertisement
Nicole and I were honored that they chose us to perform the encore dance on Tuesday night. It felt so right to repeat that jive because we spent so much time on it. It felt just as special the second time, maybe more so because it wasn't part of the competition and we could relax and have fun with it.
OK! EXCLUSIVE: DWTS DRAMA — KATE GOSSELIN ADMITST, "WE WEREN'T COMMUNICATING WELL"
Tuesday was a surprising elimination night with Shannen Doherty going home after she'd improved so much during the second week. But it seems like fate as her partner (and my close friend Mark Ballas) had a freak accident Monday during rehearsal and couldn't have continued in the competition anyway.
I'm worried about Mark's knee. He's had problems with his knees for awhile but he's a soldier and powers on through it. This time, the muscle came off the bone. But he's a trouper — he'll be back. Mark is taking it extra easy now to avoid having to have surgery. In season five, the same thing happened with his shoulder — he was injured, but he kept dancing on it and then it dislocated and it turned into this huge thing, so it's best he rests his knee. As you all know, we are not only friends but we also perform in the Ballas Hough band together, so I need my buddy to be 100 percent! It's a shame but it's one of those things — this show is crazy, right?
OK! GALLERY: JAKE PAVELKA HAPPILY PRACTICES WITH HIS DWTS PARTNER
Nicole and I have now started rehearsing for our quick step this week, and as judge Len Goodman has decreed, the upcoming third week dance MUST tell a story. I already kind of have a concept idea in my head but have to keep it a secret, of course.
Thank you for all the votes and be sure to tune in on Monday night!
Derek