NEWS
Derek Hough's DWTS Blog: Sailing Away with a Strong Score!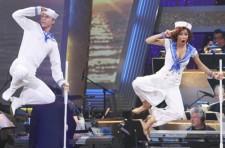 Dancing With the Stars pro Derek Hough has teamed up with OK! to update you every week as he attempts to turn his partner Nicole Scherzinger into a ballroom champion!
Hi, everyone, and welcome again to my OK! Dancing With the Stars blog! Last night, Nicole Scherzinger and I performed the quickstep and although Evan Lysacek and his partner Anna Trebunskaya got a higher score, we were delighted with our performance.
Article continues below advertisement
It was a lot of fun and a big success and I was very happy. I felt we told the story of the two sailors off on an adventure.
We got a 23, still a strong score, but lower than last week. I was kind of expecting it, though, because we broke judge Len Goodman's rules. But I couldn't stay in frame because the music was saying something else. The song, "Anything Goes" was too dynamic and I thought, we have to match that with this routine — if not, we'll be doing the song injustice.
DEREK HOUGH'S DWTS BLOG: JIVING OUR WAY TO THE TOP
Nicole said even through the hard times, when she wasn't getting the steps right in rehearsals, she couldn't stop smiling. We felt like we were in an old-fashioned MGM musical. Hopefully everyone at home felt that way as well during our performance.
I came up with this routine because Nicole wanted to do something retro. She wanted to do an old-fashioned jive last week but we were assigned a contemporary song, so we weren't able to do that. "Anything Goes," however, was the perfect fit for a Gene Kelly style dance. Nicole loved her short curly hairstyle — she's never worn a wig in a performance before, so she enjoyed it.
Article continues below advertisement
DEREK HOUGH'S DWTS BLOG: WHAT A WAY TO START!
We were sorry the show aired our rehearsal footage that showed us having a tiff. Nicole said she wasn't very ladylike by cursing. She joked that she was still in character, though — she had the voice of a sailor! I think that happened because we have such high expectations. Being on top the past couple of weeks, we felt the pressure that this is going to be easy. But it's not easy for Nicole or for me to come up with routines, so of course we're going to get stressed out.
Actually, despite what aired this week, our rehearsals were mostly high-spirited. Nicole and I spent most of the time on the floor laughing.
DWTS RECAP: EVAN & ANNA GO FOR THE GOLD; CHAD WOOS CHERYL WITH DIAMOND RING
The boat they showed in the clip package was, of course, my private yacht! Why are you laughing? But seriously, my opinion on those field trips they have us do on the show is, sometimes it's fun to get out but sometimes we're like, oh, my gosh, we need to be in the dance studio. This week, I felt it was a nice change of pace to be on the boat and get into our characters.
If we make it through tonight's elimination, next week we will dance the rumba. We will have to incorporate some specific moves. We hope not to face the red elimination night lights tonight; tune in and see. Well, thanks for voting, everyone, and talk to you later!
Derek