NEWS
'DWTS' Recap: Evan & Anna Go for the Gold; Chad Woos Cheryl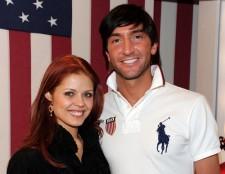 Olympic gold-medal-winning ice skater Evan Lysacek and pro Anna Trebunskaya finally landed in a place he's familiar with on Dancing With the Stars on Monday night — on top of the leader board.
But, on a night when all the performers were asked to tell stories through their dances, Chad Ochocinco and his partner Cheryl Burke had the best real-life story backstage — the football great has given the longtime dance pro a huge diamond ring!
Article continues below advertisement
"We had fun tonight,"Evan told OK! backstage. "We've had a very challenging week and we were nervous to have to go first. I got out there and tried to get in the character of the story and once people started to buy it, we had a great time."
What made his triumph even more impressive was that Evan had broken two toes last week.
OK! NEWS: DWTS CONTESTANT ERIN ANDREWS FACED WITH DEATH THREATS
"It happened last week in our sound check for the jive," he explained. "I was afraid the shoes that were my size would come off because my heel was slipping so I wore shoes that were a little small. I hit it funny when I had to jump over Anna's head in a split. It felt okay and I didn't tell her and it just got progressively worse."
Article continues below advertisement
Evan said all he can do for the broken toes is "tape it, ice it, take pain killers." And luckily, he's used to such mishaps.
"The life of an athlete," he shrugged. So the show went on for Evan and he wound up in first place this week.
Meanwhile, Nicole Scherzinger and partner (and OK! blogger) Derek Hough, who have led the competition the past two weeks, tied for second with ESPN reporter Erin Andrews and her partner Maksim Chmerkovskiy. Both couples got 23 points.
"I had this really goofy smile on my face. It was sheer entertainment," the Pussycat Dolls singer said of her quickstep with Derek, which had the duo telling the story of a couple of sailors getting into mischief. "I felt like I was in a movie musical with Derek and what other place can you do that?"
While Nicole and Derek had wholesome appeal Monday night, Erin took a risk by wearing a blindfold through most of her waltz, which told a story about trust.
Article continues below advertisement
"It was fun," she told OK! backstage. "I was pretty used to it. I actually prefer it now. Everyone says I dance better when I can't see!"
Maks said, "She pulled it off with flying colors."
Erin admitted she and Maks are "connected at the hip" these days, but when asked (again) if they were hooking up in real life, the couple deflected the question.
"Are we working on buying a house, like are we married?" Erin joked to Maks in front of OK!. "Not this week? Everyone's rumoring that we're dating, but I don't get that Cheryl is the one who has a diamond ring!"
In fact, Chad Ochocinco and longtime DWTS pro Cheryl Burke were the talk of the night. They got a 20 for their Paso Doble, in which his matador character tried to seduce her — but she would have nothing to do with him. Kind of like real life, they admit! In fact, Cheryl revealed to OK! after the show that Chad's latest gambit to win her heart is a honking diamond ring!
Article continues below advertisement
"That is for appreciation," Chad more seriously explained of his dazzling gift. "I deal with her nine hours a day. It feels like a marriage even though I haven't been married. It fits the situation. We need to be professional. The hours we put into this — I just thought, the bull she has to put up with dealing with me for such a long period of time, what better way — women love diamonds."
When asked what the bauble cost, the football star said, "A man never reveals!" but confided it came from Jason of Beverly Hills.
Cheryl said Chad did get on one knee to give her the ring. "It fit, like Cinderella and the glass slipper. I fainted."
Chad said, "She hit her head on the couch in the trailer but she's okay."
His dancing queen said, "It looks like an engagement ring."
Article continues below advertisement
Then Cheryl — who has been unattached since splitting from her model boyfriend before this season began — couldn't help touching Chad's awesome abs on the press line.
OK! NEWS: SHANNEN DOHERTY ON DWTS ELIMINATION
Oh, and, what about their dance? "I felt good. I was in character, just trying to get the girl," Chad said. And with the ring, he just might!
The Bachelor Jake Pavelka and his partner Chelsie Hightower received one more point than Chad and Cheryl. The duo scored a 21 for their quickstep with Jake playing an archeologist who shimmied with Chelsie's Cleopatra character as they were surrounded by kitschy Egyptian props.
In rehearsal footage, Jake was shown walking out on Chelsie for disrespecting him.
"The frustration you saw this week was that last week, we had five days to learn jive," Jake told OK!. "This week we had four days to learn quickstep and that's why it was a little tense."
But it all worked out in the end to the tune of "Walk like an Egyptian."
Article continues below advertisement
"We came out and we were able to have fun," Jake said. "It was an improvement from last week, and that's the name of the game."
Niecy Nash and her pro Louis Van Amstel told the tale of an interracial couple dealing with their forbidden love during the 1960s.
The Insider and Reno 911! comedienne took home a 21 for the performance.
Niecy got very emotional about the dance's anti-racism theme, and admitted to OK! backstage, "I loved the message but I hated being so vulnerable, letting people see that side of me is not a place I often live in."
Although Niecy said she was "uncomfortable and lost my footing a little bit," her devoted partner Louis soothed her, saying, "that's a beautiful place to see you in."
And Niecy pointed out they were the only couple without props!
Article continues below advertisement
"We were the only ones who went out there and didn't have bells and whistles and mops and brooms and buckets," she said.
Pamela Anderson and her dancer Damian Whitewood, who landed in the bottom two last week, found the judges sang their praises Monday night. They nabbed a 21 for their Paso Doble story of a gypsy flamenco dancer in love with a matador.
In Aiden Turner and partner Edyta Sliwinska's quickstep, a painter got to dance with the woman of his dreams.
They earned a 20, with the judges saying he looked more at ease. "I am improving every week. I'm happy about that," Aiden smiled to OK! after his performance. "I hope that the fans keep me in."
A clip package showed Aiden — in a DWTS "too much information" moment — throwing up backstage. And the former All My Children star revealed the stomach-turning footage came from after his performance last week.
Article continues below advertisement
"I did the dance and had the judges' scores… they put you backstage because you have to do your 'confessional' in this room and the cameras were on us, they were asking us how we felt, and…all of a sudden, boom, I didn't feel very good, I was sick. I hadn't eaten since 11:30 a.m. and I think it had something to do with my nerves. But Edyta and I went back to work."
Kate Gosselin and partner Tony Dovolani's story was about her life as a tabloid target, as he played a paparazzo to her harassed celebrity in the Paso Doble.
But the judges compounded Kate's image issues by only giving her a 15 for the dance, with judge Bruno Tonioli saying her "character" in the dance was the "super bitch from hell."
Carrie Ann slammed Kate, saying the dance was "odd, very hard to watch," and she looked "mad" throughout the performance.
Article continues below advertisement
It was another bruising experience for the buzzed about mom of eight, but she shrugged off the criticism after the show, telling OK! "the scores, whatever. I feel like it's internal scores that matter the most and I feel like this was our best dance."
"Obviously, I'm not going to lie — I wish that our scores were higher and I wish my feelings of how I did would measure up a lot better with the judges but I do have a thick skin and I have to be able to deal with what they have to say and they don't see me in the role of a dancer," she continued. "I get that — but I'm not going to stop trying to prove them wrong. I am not a quitter."
Her loyal pro Tony defended Kate, saying, "She did an incredible job. It goes to show practice does make perfect." Well, not according to the judges!
Kate wound up second to last, because Buzz Aldrin and Ashly Costa haven't been scoring well in the competition, and Monday night was no exception, as the American legend received just 13 for his waltz.
Their story of a father coming home after the war to his daughter might touch the public, but it left the judges wanting more dance skill. Could the 80-year-old astronaut be in danger in tomorrow's elimination night? Judge Len Goodman summed it up by sighing, "It's a dancing competition and your technique was poor."
CLICK HERE FOR ALL OF OK!'S DANCING WITH THE STARS NEWS & PICS!
Tune in tomorrow night on ABC to see if it's Buzz — or another celebrity — who takes the tumble.