NEWS
'Cheer' Star Monica Aldama Reacts To Jerry Harris' Arrest: 'I Am Devastated'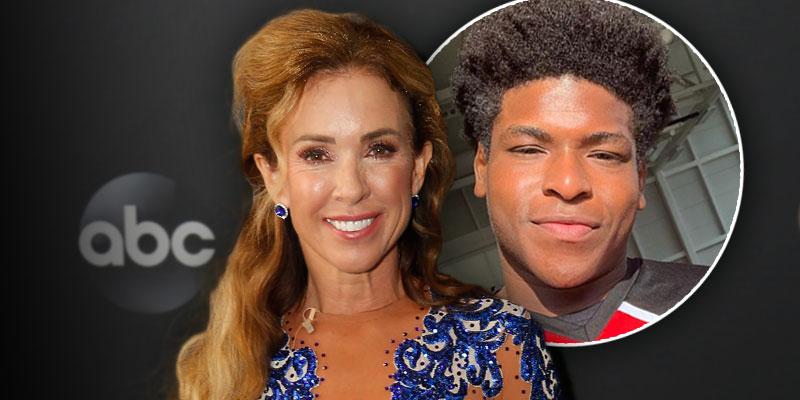 Cheer star Monica Aldama reacted to Jerry Harris' arrest for allegedly "enticing an underage boy to produce sexually explicit videos and photos of himself" on Friday, September 18. "My heart is shattered into a million pieces," the college coach, who mentored Harris on the Netflix show, began on Instagram.
"I am devastated by this shocking, unexpected news. Our children must be protected from abuse and exploitation, and I'm praying hard for the victims and everyone affected," the Dancing With the Stars contestant continued. "Please respect our privacy as our family mourns during this heartbreaking news."
Article continues below advertisement
'CHEER' STAR JERRY HARRIS ARRESTED AND CHARGED WITH PRODUCING CHILD PORNOGRAPHY
One day earlier, the 21-year-old was arrested and charged with one count of producing child pornography. According to a complaint filed by the U.S. Attorney's Office in Chicago, Harris allegedly admitted to receiving raunchy photos from at least "10-15 other individuals he knew were minors."
The complaint also states that Harris "contacted the underage boy on a social media application." While messaging online, the victim told Harris he was only 13 years old. If convicted, Harris could serve a minimum sentence of 15 years in prison and a maximum of 30 years.
14 CELEBS WHO HAVE NEVER BEEN ARRESTED
On Monday, September 14, the FBI searched Harris' Naperville, Illinois, home as part of the investigation. On Thursday, FBI special agent Siobhan Johnson said the agency was "conducting authorized law enforcement activity in Naperville, Illinois, and other Chicago suburbs this morning."
Earlier this week, USA Today reported that 14-year-old twin brothers Charlie and Sam from Texas accused Harris of abuse. The boys said they were 13 years old when they met Harris. According to screenshots obtained by the outlet, Harris allegedly asked one of the boys to get "naked and take a video and show me." In 2019, Harris allegedly asked one of the brothers to have sex with him at two cheerleading competitions.
THE MOST SHOCKING CELEBRITY ARRESTS!
However, a spokesperson for Harris told CNN that his client was not involved with these two boys. "We categorically dispute the claims made against Jerry Harris, which are alleged to have occurred when he was a teenager. We are confident that when the investigation is completed the true facts will be revealed," they said.
Harris became famous after the documentary — which followed a cheer squad from Navarro College in Corsicana, Texas — premiered on Netflix. A spokesperson for the show added that they were "shocked" by the news. "Any abuse of minors is a terrible crime and we respect the legal process," they said.