NEWS
'DWTS' Recap: Aldrin Eliminated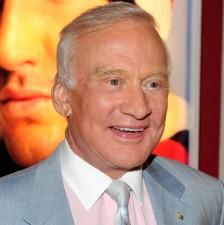 Buzz Aldrin, who was the second man on the moon, became the second celebrity kicked off Dancing With the Stars this season on Tuesday night. He and his partner, Ashly Costa, were sent into orbit on just the third week of competition.
OK! NEWS: DEREK HOUGH'S DWTS BLOG: SAILING AWAY WITH A STRONG SCORE
The astronaut told reporters after the show about his ouster, "We were planning on staying at least another couple of weeks!" But it wasn't to be. "The dance floor is reality — it's hard wood," Buzz sighed.
Article continues below advertisement
Still, Buzz said he learned a lot from doing DWTS: "That I don't build up big expectations and that I can accept what comes my way. I feel very warm about the last couple of weeks, making new friends, reaching out to people that haven't heard about me before or haven't thought about me for awhile, so I'm just happy to rekindle those acquaintances. They're distant but they're very valuable to me."
The American hero, at 80 by far the oldest contestant, and his devoted pro dancer, Ashly, didn't fare well on Monday night. In their waltz, the pair told the story of a father coming home from war to be with his daughter. While the judges always acknowledged Buzz's legendary status, they haven't liked his dancing and Monday night was no exception. "It didn't flow," Bruno Tonioli complained, while Len Goodman criticized Buzz's technique. The astronaut got just 13 points out of 30 from the judges, the lowest score of the night.
Article continues below advertisement
Buzz was in the bottom three with Kate Gosselin and Tony Dovolani and Jake Pavelka and Chelsie Hightower. Once Kate and Tony were sent to safety, Buzz was given the bad news that he and Ashly were leaving instead of former Bachelor Jake and his partner Chelsie.
OK!'S RED CARPET CONFIDENTIAL: BROOKE BURKE PICKS DWTS FAVORITES
Backstage, the always enthusiastic Buzz told reporters he felt "on top of the world!" despite his elimination. He was delighted to have built awareness about the space program by being on the show. The astronaut said he took away from the DWTS journey, "The satisfaction of really pushing myself, accepting a challenge and doing the best I can to spread interest among America and the rest of the world in the achievements of success that I was part of in the past — the Mercury, Gemini, and Apollo program and the Space Shuttle and most of all, the wonderful challenges we have. It takes patience to see lasting important things and the American people are very focused on what's in it for me right now. It took us less than a decade to get to the moon. It's going to take us maybe two decades to get to Mars but it will be so well worth it."
OK! NEWS: TONY DOVOLANI ON KATE GOSSELIN SPAT: "I CALLED MY DAD & APOLOGIZED"
Meanwhile, Ashly, who returned to DWTS this season after taking some time off to raise a family, said, "It was an honor to be Buzz's teacher. I'm going to miss hearing his stories. I want to go home and write it all down in a journal. I was disappointed that the judges didn't see that every week, he improved."
When asked if he'll continue to dance, Buzz smiled, "of course I will! I have a lovely partner," he said, this time referring to his wife, Lois, who always sat in the audience to cheer him on. "How can I not?"