NEWS
'DWTS' Watch: Dancers Reveal Sneak Preview of Upcoming Finale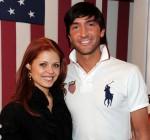 Evan Lysacek entertained his Dancing with the Stars friends at his Los Angeles performance of Smuckers Stars on Ice on Thursday night.
And after the high-energy ice show at Staples Center, Evan and the cast gave OK! a sneak preview of what we can expect from the hotly anticipated DWTS finale next week, in which the Olympian competes against Nicole Scherzinger and Erin Andrews.
"Rehearsals are going really well," Evan said of his finale preparation with pro Anna Trebunskaya. "We have three of our four dances totally done and were working on our freestyle. I think we have mixed emotionswere happy that weve made it to the finals but were sad its coming to an end. Its gone so fast."
Article continues below advertisement
Evan told OK! his freestyle is going to be fun because, "Ive learned a lot of different styles and different techniques but what I realize is the worst thing to do in this competition is to be self-conscious about what you look like and how youre moving. You have to just let go and have fun so thats what were going to do in the freestyle."
'DWTS' WATCH: OLYMPIAN EVAN LYSACK TANGOS HIS WAY TO TOP SCORE
Following usual DWTS tradition, all of the eliminated celebrities and their partners will return to the ABC show for the Tuesday finale to give short exhibition performances. "Thats going to be the best part," Evan smiled.
As previously reported, former Bachelor Jake Pavelka will perform not only with partner Chelsie Hightower but his fiancee, Vienna Girardi.
Chelsie told OK! "Him and Vienna are going to do a romantic dance. Shes doing well with her dance training. Im impressed about how fast shes picking it up. Im showing her moves, getting her to straighten her back out, the works!"
Article continues below advertisement
'DWTS' WATCH: THE DANCING GAME IS OVER FOR CHAD OCHOCINCO
Chelsie said Jake is interested in continuing his dance training. "He's bummed about not being able to dance anymore and he actually asked me if I would compete with him in a Pro Am dance competition."
Damian Whitewood, who competed with Pamela Anderson, told OK! their Tuesday performance, "Is being billed as Pams sexiest dance. I think it will be. Shes going to look pretty hot and weve got a few things up our sleeves that we didnt get to use before."
Louis Van Amstel said his fifth place finisher Niecy Nash will perform samba to the tune Bootylicious. "She'll shake every body part there is to shake. Its going to be a jiggle fest! He also teased, there might not be just two people in the partnership. She might have requested more men."
'DWTS' WATCH: NICOLE SCHERZINGER AND DEREK HOUGH WIN AGAIN
Dancer Mark Ballas, whose celebrity Shannen Doherty was the first to be eliminated this season, told OK! they will be doing a cha cha cha with another co-star, soap star Aiden Turner.
Article continues below advertisement
"It's our last hurrah so it will be cool," said Mark, who injured his knee this season but is fully recovered. "I thought she got knocked out too early but thats the way it goes. Shes excited to get back on the floor again. We always have a good time when were together. She had a lot of stage fright but this time, theres no judging so I think that will make her feel better."
But astronaut Buzz Aldrin hopes the judges DO chime in. He laughed to OK! that his Tuesday routine will be the Paso Doble with partner Ashly Costa and, "I'm pretty confident. Im going to get three tens!"
Tune in Monday and Tuesday for the DWTS season finale on ABC!
By Carole Glines