NEWS
'DWTS' Watch: The Dancing Game is Over For Chad Ochocinco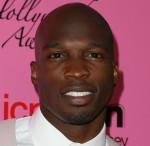 Football player Chad Ochocinco was stopped dead in his tracks on Tuesday night — he was eliminated from Dancing with the Stars just short of the finale.
Chad made it to the final four on the hit ABC reality show, but on Monday night he got the lowest cumulative score, a total of 52 for his waltz and samba.
OK! NEWS: NICOLE SCHERZINGER: PRINCE INSPIRED ME TO DANCE
Although the judges praised his improvement, and Chad caused a sensation by going shirtless and showing off his rock hard abs in the samba, it wasn't enough to be in the final three. His fellow stars Nicole Scherzinger, Evan Lysacek, and Erin Andrews won the honor instead.
Article continues below advertisement
After the show, Chad told reporters the best thing he got out of the show was friendship with his partner, Cheryl Burke. "The elimination hurts after putting in all the work but the time that I've spent with her has been so awesome and I wanted to continue to grow."
OK! NEWS: NICOLE SCHERZIGER SWEATS OVER DEREK'S BIRTHDAY GIFT
This season, the pair caused romance rumors to fly when Chad gave Cheryl two extravagant gifts — a diamond ring and diamond necklace. And Chad confided to OK! that he was in love with Cheryl and that she was "perfect."
But now, Chad is moving on to do Perfect Match, his own reality dating show on VH1, so it looks like Cheryl is out of luck — or is she? When OK! asked if he's looking for love on his new show, the athlete said, "the love has already been found."
OK! DWTS WATCH: NICOLE & EVAN LYSACEK TIE FOR FIRST PLACE
But Cheryl said, "I'll help him find somebody." The football great got his feet wet in reality TV on DWTS, and on Perfect Match, Chad revealed, "I'm going to have some fun. I'm going to continue to be me, that same smile."
Article continues below advertisement
"But it's going to show you another side of me that nobody's ever seen. Dancing is one thing, football is one thing, this is more on a personal side."
OK! NEWS: CHAD OCHOCINCO ASKS CHERYL BURKE: "ARE YOU REALLY IN LOVE WITH ME?"
Chad said he learned "patience" from doing DWTS. "Usually I'm a perfectionist in everything that I do but this is something I couldn't grasp right away. It takes a period of time to get it."
"But I had a lot of patience and she had a lot dealing with me too. I'm going to miss everybody. As long as she doesn't leave my life, I'll be fine. I'll continue to dance. I'll dance in the end zone; I'll dance with Cheryl."
OK! EXCLUSIVE: CHERYL & CHAD: IT'S LOVE
Cheryl reflected: "Every week he improved as a dancer. You go through your battles — you're spending every day with somebody for three months. It's been an amazing journey."
Article continues below advertisement
"We built such a strong friendship and bond and chemistry and we're going to stay friends forever." Of getting voted off, she shrugged, "it was really hard to compete against the other three couples."
OK! DWTS WATCH: EVAN GOES FOR GOLD, CHAD WOOS CHERYL
Chad will be back to perform in the finale next week, because, following usual DWTS tradition, all the couples return to do an exhibition dance. "It's straight back to business. We don't get a break from each other just yet," Cheryl winked.
Meanwhile, the other three celebrities and their partners are moving on to the hotly anticipated finale. Nicole and Derek Hough couldn't stop smiling backstage.
OK! NEWS: ESPN STALKS OUT ERIN ANDREWS' PEEPING TOM FOR MONEY
Erin, with partner Maksim Chmerkovskiy, confided to OK!, "we're pretty exhausted and thinking about what's going to happen in the upcoming days. We do have the underdog role."
Evan and Anna Trebunskaya were thrilled to make the finals. The ice skater told OK!: "It's been our goal all along. We're tired but I'm excited." Anna said all the dancers will perform an incredible four dances next week — two on Monday and two on Tuesday. "They all count," Evan sighed.
OK! DWTS WATCH: EVAN & ANNA TANGO TO THE TOP SCORE
Who will rise to the occasion and who will miss out on the mirror ball trophy? Tune in next week to see what happens in the DWTS finale!