NEWS
'DWTS' Watch: Nicole Scherzinger Beats Injury to Win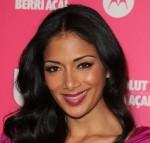 Nicole Scherzinger beat a strained neck to triumph once again with her partner Derek Hough on Dancing with the Stars Monday night.
While all of the couples did well in the strongest night of competition yet this season, it didn't come easily, as Nicole had a strained neck after the show and ice skater Evan Lysacek was recovering from a concussion suffered in rehearsal.
Article continues below advertisement
At week six, the show's halfway point, the couples all performed one individual dance and also took part in a swing "dance off" marathon — in which all the pairs hit the floor to be judged at once. And the Pussycat Doll and Derek scored 26 in their samba and a ten out of ten for their swing for a total of 36 out of 40 in the two dances.
After the show, Derek told OK!: "Tonight was a blast!" And Nicole said before they hit the floor, "I was like, you know what, Derek, I don't care about scores." She admitted, "I'm just grateful to have made it halfway through the show."
OK! EXCLUSIVE: SECRETS OF DANCING WITH THE STARS
Although the singer claimed she didn't worry about the judging, she had to love Carrie Ann Inaba's comment that her dancing was so good it was "ridiculous" and judge Bruno Tonioli using the line from A Chorus Line, calling Nicole "one singular sensation!"
However, while doing interviews after the show, Nicole rubbed the left side of her neck and admitted it was strained from their long and energetic marathon swing dance. "Probably tomorrow when I wake up I'll be like — my neck!" she said, but with a smile on her face.
Article continues below advertisement
OK! EXCLUSIVE: CHERYL BURKE & CHAD OCHOCINCO — IT'S LOVE
Meanwhile, ESPN beauty Erin Andrews and her pro Maksim Chmerkovskiy, who have been improving every week, distinguished themselves with a samba that scored 25 — and proved their strength in the swing dance marathon, getting nine points for a total of 34, second only to Nicole and Derek.
Backstage, Maks told OK!: "Tonight was awesome. I really liked it." But the dancer did challenge judge Len Goodman, who marked them down because Maks took his shirt off and allegedly didn't follow proper samba rules.
OK! NEWS: JULIANNE HOUGH IS NOT DATING RYAN SEACREST
"I don't want to complain, but judges need to start looking at something else," Maks said. "If you're going to call me out as a pro dancer, you better be ready for what I have to say and Len doesn't want me to start talking technique and steps.
He's not going to win that battle — I have way too much experience and way too much knowledge and I would never come out with something gimmicky."
Article continues below advertisement
OK! NEWS: DWTS WATCH: KATE GOSSELIN IS ELIMINATED
Although rehearsal footage aired on DWTS showed Erin and Maks (who have been rumored to be an item) quarreling, the pro insisted, "there was no conflict. My job is to teach her and she gave me 100 percent."
Football star Chad Ochocinco is finally making dancing seem as easy for him as running as he scored a 24 for his sexy Argentine tango and a seven for his group swing, for a total of 31.
Article continues below advertisement
Ice skater Evan, a front-runner all season, wound up with a disappointing total of 27 this week, as he scored just 21 for his samba and a six for his swing with teacher Anna Trebunskaya.
Judges took shots at the graceful athlete, with Carrie Ann sighing, "You lost the battle with the samba."
OK! NEWS: JAKE PAVELKA & VIENNA GIRARDI — WE'RE NOT MARRIED!
But, as rehearsal footage showed, Evan had suffered a concussion when Anna accidentally dropped him on his head as they practiced. After the show, trouper Evan told OK! "It was a minor concussion. It's okay. I just have had serious concussions before with bleeding so I couldn't take any painkillers and it was sore today.
"If you have a concussion before with internal bleeding, you're at risk of having it again and painkillers like Advil or Celebrex, what I would normally take, promote bleeding so I can't take them."
OK! NEWS: KATE GOSSELIN EXPLAINS WHY SHE STAYS IN THE SPOTLIGHT
Anna said, "He's doing great after getting thrown on his head. We had all these obstacles to overcome." Although battered, Evan said "I thought my hips were better than they were last week. We spent a lot of time working on the samba — all the things I didn't do well were what we really worked on."
Article continues below advertisement
Funny gal Niecy Nash and her pro Louis Van Amstel entertained the crowd with an Argentine tango that blended comedy and solid dance moves and judges gave them a respectable score of 21.
OK! NEWS: CHACE CRAWFORD CUTS LOOSE FROM FOOTLOOSE
In the swing dance marathon, however, the couple faltered, only getting a five. Overall, they wound up with 26. But a buoyant Niecy, who reached for a cookie during her tango, said after the show, "I loved how Louis let me incorporate some comedy in there."
Louis, perhaps referring to Maksim's shirtless ballroom move, joked that to get higher scores Niecy, "just has to show more skin."
OK! DWTS RECAP: EVAN & ANNA GO FOR GOLD; CHAD WOOS CHERYL
The Bachelor Jake Pavelka started the night decently with partner Chelsie Hightower as they samba-ed their way to a 21. But later, in the group dance, their swing got the lowest score of four.
Their combined total of 25 may put them in danger of elimination on Tuesday night. In the samba, Jake stumbled again, as he has in some of his previous dances, causing judge Carrie Ann to comment: "You push yourself to the max."
Article continues below advertisement
OK! NEWS: BROOKE BURKE PICKS DWTS FAVORITES
The reality TV hunk told OK! backstage, "we're on the bottom. Aaah! The samba was a really tough dance." When asked what happened during the swing "dance off," Jake said, "I don't know! We rehearsed it four or five times out here on the dance floor." But, as usual, Jake accentuated the positive, insisting, "The whole thing is to have a fun time."
Will The Bachelor hunk face the red elimination light instead of a red rose on Tuesday night? Or will a different star be escorted from the ballroom floor? Tune in Tuesday night to ABC to see the results!