NEWS
DWTS Watch: Kate Gosselin is Eliminated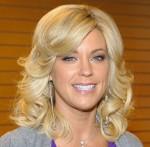 Kate Gosselin, the most buzzed about celebrity on this season of Dancing with the Stars, was eliminated from the ABC reality show the night after the judges ripped apart her foxtrot performance and gave her the lowest score of 15.
Kate and her partner Tony Dovolani's slow dance to the song "Don't Forget About Me," from The Breakfast Club, had judge Bruno Tonioli calling her "catatonic."
Article continues below advertisement
And on Tuesday night, it was clear viewers thought it was time for the mom of eight to go. Pamela Anderson and partner Damian Whitewood, who were in the bottom two with Kate and Tony, survived to dance another day.
Kate wiped away tears in an emotional on-camera goodbye, but backstage after the show, she was composed. The reality mom told OK! she sensed it was the end of her dance experience: "I have been crying all day today and telling the hair and makeup people and everybody I saw 'goodbye' even though they hated to hear it.
OK! NEWS: PRESIDENT OBAMA AND KATE GOSSELIN STAYING IN THE SAME HOTEL
"I knew. My gut feelings are always right. You can make them go away but I woke up this morning and I knew it was today — and it's okay because everybody else are better dancers.
"They're wonderful people, I love watching them, hanging out with them. I'm thrilled to have had the Dancing with the Stars opportunity." She said of her co-stars, "it felt like family to me."
Article continues below advertisement
OK! NEWS: DWTS WATCH: NICOLE SCHERZINGER WINS, KATE GOSSELIN LOSES
Speaking of family, Kate revealed to OK! last night that was keeping the bad news from her eight kids for now. "They're going to strategically watch a movie tonight instead of watching the show."
"And I will tell them tomorrow personally because every week they were getting more and more nervous with me dancing and I didn't discuss it with them. They would come to me and say, 'mommy, I hope you make it.'
OK! NEWS: JAKE PAVELKA AND VIENNA GIRARDI: WE'RE NOT MARRIED!
"And they were getting more and more concerned, so they will be upset — but they'll be okay in the end."
Meanwhile, her loyal partner Tony said, "Every week she showed an improvement; that was impressive. We had a great journey together. The competition is over for us, but we have a great friendship that we're going to continue. We actually had a lot of laughs; we had a lot of fun with each other."
Article continues below advertisement
OK! NEWS: MY KIDS ARE THE WIND BENEATH MY WINGS, SAYS KATE GOSSELIN
The longtime DWTS pro said the producers didn't always show the positive moments, but added, "We know we had a great time and she's got a friend here."
Kate, who is still promoting her new book, "I Just Want You to Know," will soon start her new TLC show, Twist of Kate, which will have her visiting women facing challenges in their lives.
OK! NEWS: KATE EXPLAINS WHY SHE CHOOSES TO STAY IN THE SPOTLIGHT
She expects to continue working in reality TV, saying, "I'm so real. I see myself as a co-host in the future." Would she ever pursue acting? Kate wouldn't rule it out! "Maybe after 150,000 acting lessons," she smiled. "I don't know. I wear my emotions on my sleeves. So we'll see."
The single mom who has insisted throughout her DWTS stint that she must work to support her kids, said "there won't be a pause" in her busy schedule. She has no vacation plans but said her treat will be resuming some old habits: "To be honest, I'm looking forward to going back to running every day. It's my stress relief."