NEWS
Everything You Need To Know About Last Night's RHOC Reunion, Pt. 2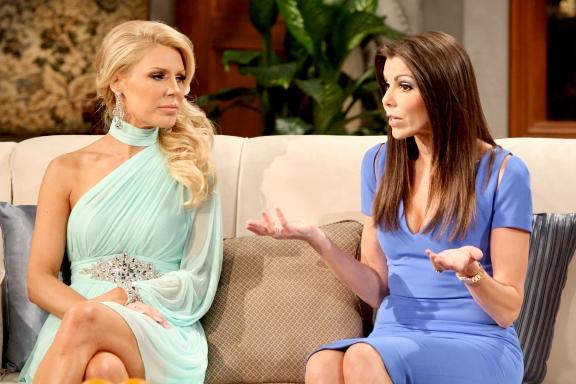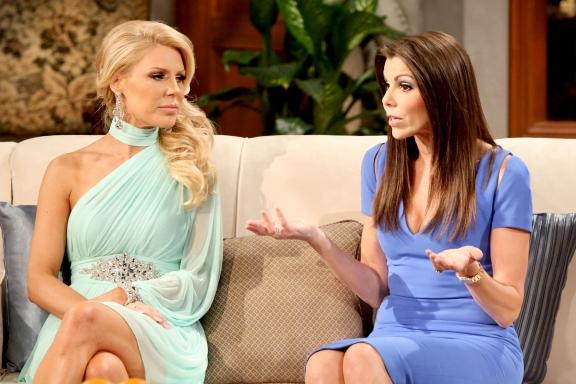 Article continues below advertisement
And now we get to the controversy…everyone hating on Gretchen this season. First, let's start with the crazy surrounding Tamra's wedding dress shopping excursion with the ladies. Gretchen is still pissed about Tamra inviting Alexis because she swears up and down that, despite their truce, Tamra has had nothing but horrible things to say about her. Poor Alexis gets so dragged through the mud as Gretchen is carrying on about how no one likes her to prove the point of why she was annoyed Tamra invited her at all—it's sad and very convoluted.
Ah, and now we get to my favorite subject of this season—Malibu Country. Yes! In the words of my husband, who is appalled he has been sucked into watching this, "They are parsing this to death." Welcome to The OC, honey. From the sound of that voicemail from Gretchen's agent, I would assume that Malibu Country did indeed want me for an appearance.
Article continues below advertisement
Andy asks Gretchen if she feels like she's friends with any of the woman right now? She says she thinks of Lydia and Heather as friends. Alexis fires back that Gretchen chooses her friends for convenience sake.
I love this little outtake they show during the commercial break of Lydia talking about her lack of domestic skills and having their maid do the laundry. "I know how to do it, but I just don't do it. I don't have to, so why would I?" That's the kind of honesty I can get behind. If I had McLaughlin money I wouldn't do my laundry either. You know who does do their own laundry? Eric Clapton. My husband ran into him in a Laundromat in LA while he happened to be in town. He said he just likes doing laundry. True story.
It's time to talk about Alexis and the "B" word—Bully. Alexis says she's passed it. Well sure you are, the crew has moved on to icing out Gretchen.
Yowzers—Vicki says Gretchen's engagement to Slade was fake for the cameras. But 30 seconds later Vicki says she hopes they have a happy and healthy life. Puh-leeze. Way to backtrack, ladies. Why would Gretchen invite any of the cast when they've been so against her all season? Why would they want to go since she's been pissing them off so much and half of them can't stand Slade?
OK! News: Get Minka Kelly's Gorgeous Red Carpet Look
And then Gretchen says it was hardest not having Alexis there. Wha-wha-what? This confuses everyone. I still really want Gretchen and Alexis to make up. I feel like they need each other.
Next week for the final part of the reunion Brooks and Brianna face off so get your popcorn and pinot grigio ready!
What did you think of last night's reunion episode? Tell us in the comments below or tweet @OKMagazine.