NEWS
Exclusive! Camille Grammer: Kelsey Has Really Hurt My Feelings, He's On Negativity Tour 2012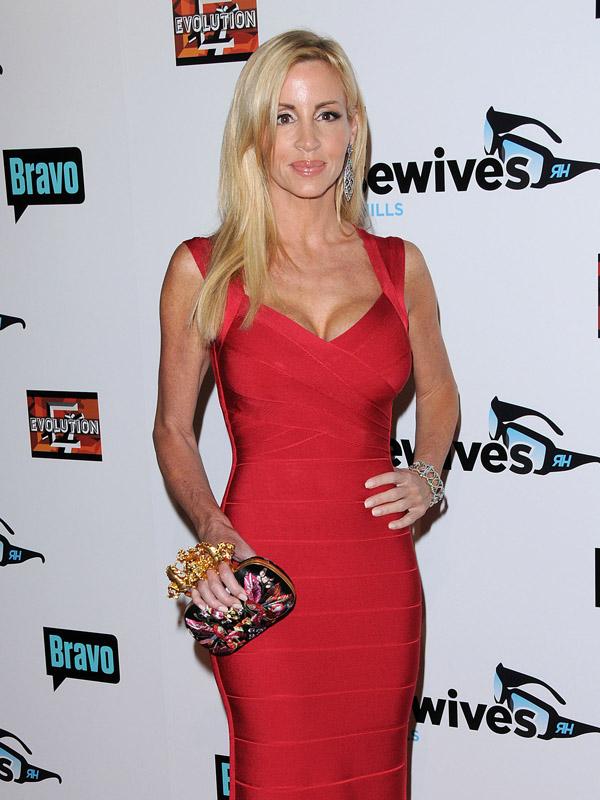 Camille Grammer has moved on with her life following her split from ex-husband Kelsey Grammer but it appears that the former Frazier star still holds ill feelings against her which The Real Housewives of Beverly Hills star says has been very hurtful.
In an exclusive interview with okmagazine.com, the mother-of-two says that she is still bemused why her husband of 13 years cannot move forward and be positive for the sake of their children.
Article continues below advertisement
OK! GALLERY: 'THE REAL HOUSEWIVES OF BEVERLY HILLS' DAZZLE AT THE SEASON THREE PREMIERE PARTY
"Of course it hurts," she told us. "He went on this negativity tour 2012 recently, over the last few months, and it hurts you know."
"I thought.. you know all marriages have their ups and downs and I loved my ex very much and I thought we were in a good marriage. I mean, who knew?
"So when he went on Oprah and said that it was over from… as soon as it started.. that hurt a lot because I believe in my heart that he loved me very much."
OK! GALLERY: TERESA GIUDICE, CAMILLE GRAMMER AND OUR LIST OF REAL HOUSEWIFE VILLAINS
When asked why she feels Kelsey has not been able to move on despite marrying new wife Kayte Walsh and welcoming baby Faith in July.
"I don't know. Maybe there's unresolved angst and he needs to work it out," Camille surmised.
Although the former couple no longer have much of a relationship as they co-parent Mason, 11, and Jude, 8, Camille wants her kids to have a bond with their new sister.
Article continues below advertisement
OK! GALLERY: KYLE RICHARDS AND HER 'REAL HOUSEWIVES' PALS PARTY AT HER NEW STORE OPENING
"Absolutely. My daughter and my son were excited to know that Kayte was having a baby," Camille shared. "When the baby came Kelsey text somebody to ask me if the kids could go and meet Faith and I said absolutely. It is what it is. My kids are very sweet. They're good kids."
Meanwhile, Camille is head over heels for her Greek hunk Dimitri Charalambopoulos who she says has not only captured her body but her soul too - but that doesn't mean she's heading down the aisle anytime soon.
Article continues below advertisement
Camille is no longer a main Housewife but will be making cameos, or Camilleos as she calls them, during this upcoming season and still makes her mark.
OK! GALLERY: KELSEY GRAMMER AND KAYTE WALSH SOAK UP THE MIAMI SUN
"I'm glad to not be in the center of the drama but there are some moments when I'm feisty this year," she said. "I didn't want to disappear but I really enjoyed being with the girls. When we are getting along it is so much fun. Kyle and I and Adrienne are all laughing and it's fantastic. Girl bonding moments."
Article continues below advertisement