NEWS
Face Time With 'Social Network' Star Jesse Eisenberg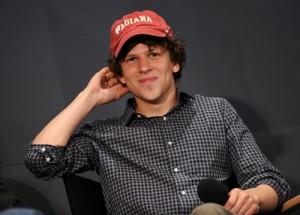 Since he's starring in a movie all about the communication revolution set in motion by Facebook, it only makes sense that The Social Network star Jesse Eisenberg put in some face time with the general public before the movie's Oct. 1 release. Jesse, along with the film's director, David Fincher, dropped by the Apple Store in NYC's Soho neighborhood on Thursday.
Article continues below advertisement
Jesse stars alongside Justin Timberlake and Andrew Garfield as the guys responsible for thinking of Facebook, financing it and causing it to become the global phenomenon it is today.
OK! NEWS: FACEBOOK MAY HELP JUSTIN TIMBERLAKE WIN AN OSCAR
There's been buzz about this movie for a long time now, as there's some rumors that Mark Zuckerberg, the real-life Facebook founder played by Jesse, and his other executives don't really like their lives being the basis for a movie, no matter if the movie is a fictional version of events, as they claim.