NEWS
Famous Bundles of Joy: 2009 in Celebrity Babies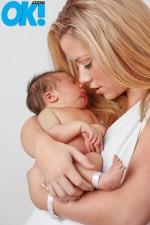 From Jennifer Garner and Seraphina Affleck to Kendra Wilkinson and Hank Baskett IV this was a big year for celebrity babies! As one of OK!'s final Year in Review stories, here is a list of celebs who welcomed new bundles of joy into their lives in 2009.
JANUARY
Seraphina Rose Affleck born on Jan. 6 to parents Jennifer Garner and Ben Affleck: Ben and Jen welcomed their second daughter at the start of this year. Serphina and big sister Violet, 3, are already great friends. The couple's new bundle of joy is always spending time with the family and can be seen smiling away while out on the town with her proud mama and adorable big sister.
Article continues below advertisement
Lazaro born on Jan. 8 to parents Gael Garcia Bernal (Motorcycle Diaries) and girlfriend Dolores Fonzi: This is the couple first child together.
Dexter Lloyd born on Jan. 11 to parents Charlotte Church and husband Gavin Henson: Dexter joined 2-year-old sister Ruby Megan.
Megan Hope born on Jan. 12 to parents Biggest Loser host Alison Sweeney and Dave Sanov: Megan joined older brother Benjamin Edward, 4.
Dreavyn Kingslee born on Jan. 26 to parents Good Charlotte's Billy Martin and Linzi Williamson: Dreavyn is the couple's first child together.
FEBRUARY
Mars Merkaba born on Feb. 1 to parents Erykah Badu and boyfriend Jay Electronica: She is the couple's first child together.
Charlie Axel born on Feb. 8 to parents Tiger Woods and Elin Nordegren: Charlie joined 2-year-old sister Sam Alexis completing the Woods' brood and giving Tiger a little golfer of his own. In this family picture from February, the Woods' clan looks happier than ever. No one expected, only 9 months later, that Tiger would be in the center of the one of the biggest scandal of the year, if not the biggest of the decade.
Article continues below advertisement
Hayes Logan born on Feb. 12 to parents Kevin Costner and Christine Baumgartner: Hayes joined Christine's son Cayden Wyatt, 2, and Kevin's children Annie, 24, Lily, 22, Joe, 20, and Liam, 11, from previous relationships.
Emme Burwell born on Feb. 22 to parents Victoria Recano and Tom Burwell: Emme is the couple's first child together.
Scarlet Starr born on Feb. 22 to Spice Girl Melanie Chisholm and boyfriend Thomas Starr: Scarlet is the couple's first child together.
CHECK OUT THESE A-LIST BABIES!
MARCH
Ciel Taylor born on March 4 to parents Niki Taylor and Burney Lamar: Ciel is the couple's first child and joined Niki's 14 year-old twin daughters Hunter and Jake from a previous relationship.
Aven Angelica born on March 5 to parents Gossip Girl's Matthew Settle and wife Naama Nativ: Aven is the couple's first child together.
Madison Rose born on March 8 to The Mentalist's Maxine Bahns and husband Patrick Watson: Madison is the couple's first child together.
Article continues below advertisement
Atlas Heche Tupper born on March 9 to parents Anne Heche and James Tupper: Atlas is the second child for Anne, who joined older brother Homer, 7, from her previous marriage.
Max and Bob born on March 14 to Charlie Sheen and Brooke Mueller Sheen: The twins are Brooke's first children and joined Charlie's children from previous marriage to Denise Richards, Sam, 5, and Lola Rose 3 1/2, as well as Cassandra, 24, from a previous relationship. The couple chose simple names for the children instead of unique names like most celebrities.
Charlie was arrested this past weekend for being involved in a domestic violence spat with this wife. Child services is aware of the situation.
Adam Brook born on March 21 to parents Andrew Firestone and Ivana Bozilovic: Adam is the couple's first child together.
Jackson Kayse Wolf born on March 22 to parents Scott Wolf and Kelley Limp: Jackson in the couple's first child together.
Satyana Denisof born on March 24 to parents Alyson Hannigan and Alexis Denisof: Satyana is the couple's first child together.
Article continues below advertisement
Elizabeth Allen born March 28 to parent Tim Allen and wife Jane Hajduk: Elizabeth is the couple's first child together and joined Tim's older daughter Katherine, 19, from a previous marriage.
APRIL
Petal Blossom Rainbow Oliver born April 2 to parents Jamie Oliver and Jools Oliver. Petal joined older sister Poppy Honey, 7, and Daisy Boo. 6.
Blakesley Grace Sutter born on April 3 to Trista and Ryan Sutter. Blakesly joins older brother Maxwell Alston, 2.
Jara Kumala Holloway born on April 9 to Josh Holloway and Yessica Kumala. The baby is the couple's first child.
Harper Willow Grohl born on April 17 to parents Dave Grohl and Jordyn Blum: She joins older sister Violet Maye, 3.
Jasper Warren born on April 17 to Brad Paisley and wife Kimberly Williams-Paisley: Jasper joined older brother William 'Huck' Huckleberry, 2.
Jett Hamilton Roberts born on April 20 to Jill Scottt and fiance Lil' Jon Roberts: Jett is the couple's first child together.
Article continues below advertisement
MAY
John and Gus born May 7 to Julie Bowen and husband Scott Phillips: The Twins join older brother Oliver McLanahan, 2.
Anniston Kae West born on May 7 to Chyler Leigh and husband Nathan West: Anniston joined older siblings Noah Wilde, 5, and Taelyn Leigh, 2 1/2.
Otis Tobias Maguire born on May 8 to parents Tobey Maguire and wife Jennifer Meyer Maguire: Otis joined older sister Ruby Sweetheart, 2.
Mabel Painter Lowe born on May 16 to Chad Lowe and girlfriend Kim Painter: She is the couple's first child together.
Kai David Singh Stenson born on May 19 to parents ER's Parminder Nagra and photographer James Stenson: This is the couple's first child together.
Kelly James Donoho born on May 26 to parents Holly Marie Combs and David Donoho: Kelley James joined older brothers Riley Edward, 3 and Finley Arthur, 5.
Kenzo Lee born on May 30 to parents Kimora Lee Simmons and Djimon Hounsou: "I just never thought it could be this good," cover girl Kimora told OK! after the birth of Kenzo. The 34-year-old Baby Phat CEO and Style Network star has every reason to be in love with life: her career is superhot, and she and Djimon, could not be happier about welcoming Kenzo into their family. Kimora has daughters Ming, 9, and Aoki, 7 from her first marriage with Russell Simmons.
Article continues below advertisement
JUNE
Max Armstrong born on June 4 to parents Lance Armstrong and Anna Hansen: Max joined siblings Luke, 9 1/2, & twins Isabelle & Grace, 7 1/2 from Armstrong's previous marriage.
Helena Grace Rutherford born on June 8 to parents Kelly Rutherford and husband Daniel Giersch: Helena joins older brother Hermes Gustaf Daniel, 2 1/2.
Luciana Bella Bonfiglio born on June 12 to parents Carnie Wilson and her husband Rob Bonfiglio: Luciana joins big sister Lola Sofia, 4.
Clementine Grace born on June 21 to parents Rachel Griffiths and husband Andrew Taylor: She joins older siblings Adelaide Rose, 4, & Banjo Patrick, 5 1/2.
Holden Paul born on June 22 to parents Mira Sorvino and husband Chris Backus: Holden joins older siblings Johnny Christopher King, 3, & Mattea Angel, 4 1/2.
Marion Loretta and Tabitha Hodge born to a surrogate on June 22 and adobted by Sarah Jessica Parker and Matthew Broderick: The twins join big brother James Wilkie, 6 1/2. Marion Loretta and Tabitha Hodge were born via a surrogate mother at East Ohio Regional Hospital. Matthew and Sarah Jessica announced the happy news in April. "We're very excited!" he told OK! at the time. At the Did You Hear About the Morgans? premiere, SJP told OK! life with the twins "is a total blessing and we're thrilled."
Article continues below advertisement
JULY
Jason Priestley and wife Naomi Lowde-Priestley welcome new son on July 9: He joins older sister Ava Veronica, 2.
Roman Stylianos Ringwald Gianopoulous and Adele Georgiana Ringwald Gionopoulous born on July 10 to parents Molly Ringwald and husband Panio Gianopoulous: The fraternal twins join 5-year-old sister, Mathilda Ereni.
Knight Jones born on July 22 to parents Kelis and rapper Nas: He joins older sister Destiny, 15, from Nas' former relationship.
AUGUST
Luka Bodhi born on Aug. 1 to parents Tom Colicchio and wife Lori Silverbush: Luka is the couple's first child together. He joined an older brother, 16, from Tom's previous relationship.
Sebastian Thomas Hilfiger born on Aug. 4 to parents Tommy Hilfiger and wife Dee Ocleppo: He joined Ally, 24, Rich, 18, Elizabeth, 15, and Katherine, 13, Tommy's children with his ex-wife, as well as two more brothers, Dee's sons from a previous marriage.
Article continues below advertisement
Isaiah Timothy Hasselbeck born on Aug. 9 to parents Elisabeth Hasselbeck and NFL husband Tim Hasselbeck: He joined big sister, Grace Elisabeth, 4, and big brother Taylor Thomas, 21 months.
David Daniel Jr. born on Aug. 10 to parents Jennifer Hudson and David Otunga: He's the couple's first child together.
Bardot Vita Boreanaz born on Aug. 31 to parents David Boreanaz and wife Jaime Bergman: She joined big brother Jaden Rayne, 7.
Beckett Edward Packham born on Aug. 31 to parents Nicole Sullivan and husband Jason Packham: He joined big brother Dashel Pierce, 2.
SEPTEMBER
Walker Diggs born on Sept. 2 to parents Idina Menzel and Taye Diggs: This is the Broadway duo's first child together.
Sparrow James Midnight Madden born on Sept. 9 to parents Nicole Richie and Joel Madden: Sparrow joined older sister Harlow Winter Kate, 2 in January 2010. The official statement on Nicole's site read: "In the middle of night, the very early hours of September 9, 2009 Sparrow James Midnight Madden was born to Nicole Richie and Joel Madden. He weighs 7lbs 14oz. Nicole, Joel, Harlow and Sparrow are all doing well. Thank you for all of your good wishes."
Article continues below advertisement
Stella Luna Pompeo Ivery born on Sept. 15 to parents Ellen Pompeo and Chris Ivery: Stella is the couple's first child together.
Charlotte Grace Prinze born on Sept. 19 to parents Sarah Michelle Gellar and Freddie Prinze Jr.: She is the couple's first child together.
OCTOBER
Henry Tadeusz Farrell born on Oct. 7 to parents Colin Farrell and Alicja Bachleda: This is the couple's first child together and they recently traveled to Poland to have the baby baptized.
Lou Sulola Samuel born on Oct. 9 to supermodel Heidi Klum and British singer husband Seal: Lou joined siblings Leni, 5, Henry 4, and Johan, 2. Check out the photos of adorable Lou Sulola in OK!'s sister mag in the UK!
Lucia born on Oct. 30 to parents Mel Gibson and Oksana Grigorieva: Mel's whirlwind relationship with Oksana made OK's Year in Review list as one of the top most scandalicious moments of 2009. After 28 years of marriage and seven children together, Mel's wife Robyn Gibson filed for divorce April 10, citing "irreconcilable differences." Then in May, Mel and new girlfriend Oksana Grgorieva announced they were expecting a child together.
Article continues below advertisement
NOVEMBER
Valentina Lima Jaric born on Nov. 15 to parents Victoria's Secret supermodel Adriana Lima and Marko Jaric: Valentina is the couple's first child together.
DECEMBER
Benjamin Brady born on Dec. 8 to supermodel Gisele Bündchen and footballer Tom Brady. Ben is the couple's first child. Tom said the delivery "went great," but a source close to Gisele says the New England Patriots dad had a lot more to say than just that! Gisele may be a new mom now, but Tom is not a new daddy. He already has a two-year-old son Jack with ex-girlfriend Bridget Moynahan so he's all ready to teach Gisele the ropes! "Tom said the baby has his eyes," a source close to the couple told OK!, adding that tom has already bought his new son "a bunch of warm jackets and blankets so Gisele can bring him to the games."
Hank Baskett IV born on Dec. 11 to Kendra Wilkinson and Hank Baskett: Hank Jr. is the couple's first child together. After initially planning a natural childbirth, the Kendra — OK's cover model for the second week in a row —
delivered by C-section at 12:37 a.m. on Dec. 11, in Carmel, Ind. Hank Jr. was the youngest celeb baby to grace OK!'s cover.
"I was just in heaven," the star of E!'s Kendra tells OK!. Echoes Hank, "It was awesome."
Article continues below advertisement
Kendra Tweets updates often about baby Hank's progress and the former Playboy model could not be a prouder mama. Now, she is focusing on getting back into shape and possibly gearing up for baby number two.
FOR KENDRA'S DIET SECRETS AND THE LATEST CELEBRITY SCOOP, BE SURE TO PICK UP THE NEWEST ISSUE OF OK! ON SALE EVERYWHERE NOW!
Mason Dash Disick born on Dec. 14 to parent Kourtney Kardashian and Scott Disick: The reality star delivered son Mason at Cedars Sinai in L.A. Their bundle of joy weighed in at 7 lbs., 6 oz and measured 19.5 inches long. Mason is the first child for Kourtney, 30, and boyfriend Scott Disick, who announced the pregnancy in August. Kourtney's due date was Dec. 23, but she popped early. This is also the first grandchild for Kris Jenner and hubby Bruce Jenner; however, that may not be the case for long. Khloé Kardasian Odom and basketball star hubby Lamar Odom are hoping to start a family soon.
Expecting in 2010
Keep an eye on these A-listers due to give birth in the new year: Amanda Peet and husband David Benihoff, Amy Adams and fiance Darren Legallo, and Rebecca Gayheart and her McSteamy, Eric Dane.