NEWS
'Glee' Calls Dina Lohan a "Loser;" Michael Lohan Agrees?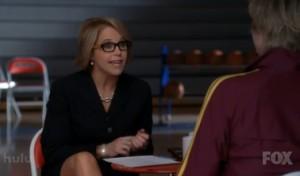 Glee may have apologized for making fun of Lindsay Lohan in a previous episode, but apparently that still left Dina Lohan fair game, in Glee's, mind to slam. In last night's Super Bowl episode of the hit show, guest star Katie Couric called Dina a "loser."
OK! NEWS: GLEE-CAP — "HEADS WILL ROLL" AFTER GLEE'S SUPER BOWL "THRILLER"
A previous guest star, Gwyneth Paltrow, poked some fun at Lindsay saying, "Lindsay Lohan is totally crazy, right?"
Article continues below advertisement
After Lindsay and her family took offense to the comments, the Glee cast reportedly apologized.
But now they're at it again.
In last night's episode, Katie interviews Sue Sylvester (Jane Lynch) for a segment titled "Loser of the Year." Katie says Sue beat out "losers" Dina and her made-up dog, Sparky Lohan.
"They are all a bunch of bullies," a source tells PopEater about Glee's reference to the Lohans. "Dina is hurt and shocked and hasn't done anything to deserve this constant teasing from this show."
OK! NEWS: GLEE CAST APOLOGIZES TO LINDSAY LOHAN
But there is one Lohan who isn't taking issue with what Glee said — Dina's ex Michael Lohan!
"As true as this might be, it is wrong," Michael told Popeater. "Dina deserves a lot worse of a title after all she has done to destroy the relationships with my kids and entire family."
Watch the clip from Glee below!
What did you think of Glee's reference to Dina?