NEWS
Have You Met The Kid President? The New Video You MUST See!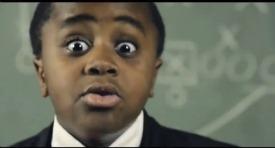 Now this is a message we can get behind! Have you seen "A Pep Talk" from Kid President? This adorable kid delivers a positive, inspirational and most importantly hilarious message!
The video comes from The Office star Rainn Wilson's website Soulpancake, and has already gone viral. We promise, it will be the cutest video you've seen all day.
What is your favorite line from the video? Tell us in the comments below or on Twitter @OKMagazine
Article continues below advertisement