NEWS
Healthy Eats! Prepare Your Home For Weight Loss Success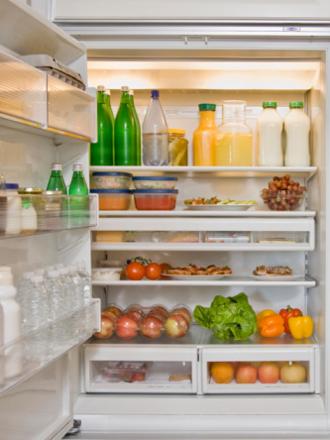 Article continues below advertisement
2. Restock your fridge with fresh fruit and vegetables and grocery shop to ensure you always have healthy snacks to hand and ingredients available to prepare nutritious meals.
OK! NEWS: BIGGEST LOSER WINNER DANNI ALLEN REVEALS GENEROUS WAY SHE'LL SPEND $250,000 PRIZE
3. Prepare food in advance. With a busy lifestyle, it's sometimes hard to be motivated to come home from work and cook every day so preparing meals in advance is a great idea. You can even spend a few hours on Sunday preparing dishes and putting them in tupperware containers as ready meals. Snacks can include hard boiled eggs, veggie slices, cut up fruit, ready measured dips like hummus to ensure portion control. And even fully preparing meals like grilling chicken breasts and a whole tray of yummy oven roasted vegetables with balsamic and a drizzle of olive oil can help set you up for the week ahead.
Article continues below advertisement
4. Ready your gym clothes so you have all your workout gear freshly laundered for the week ahead and put it out so it's good to go in the morning or have your gym bag pre-packed. That way no scrambling to find odd socks or a misplaced sports bra!
OK! NEWS: POPULAR WEIGHT LOSS DIETS FOR 2013
5. Plan your meals and snacks for each day and write down your daily menu so there is no room for error or wavering off plan. Having a food diary in place takes little effort but could be the key to staying on track.
6. Make time to relax in the evening so that you can get a good night's sleep, even if it's taking a soak in a hot bath for 15 minutes before bed to soothe your aching muscles and unwind from your day.
#MOTIVATIONMONDAY! HOW BIGGEST LOSER STARS HANNAH CURLEE AND OLIVIA WARD KEEP THE WEIGHT OFF!
7. Think of some go-to exercises you can do at home if you can't make it to the gym. May that be your favorite workout DVD already queued up in the player, bookmark a fitness website or have a circuit prepared like jumping jacks, squats, lunges, arm chair dips and sit ups with how many reps you're going to do to get a satisfactory workout at home.
What do you do to make sure your home is ready for weight loss success? Share your ideas below or tweet us @OKMagazine!