NEWS
OK! Q&A: Hilary Swank Talks New Show 'Away' & Her Dream Of Being An Astronaut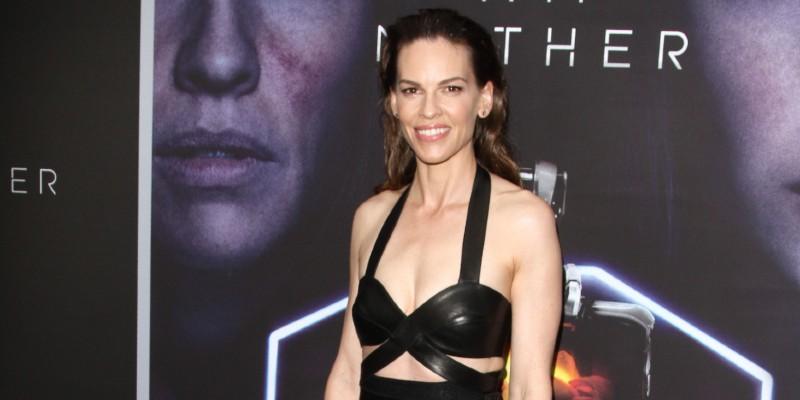 She played a boxer in Million Dollar Baby, an aviator in Amelia and an FBI agent in Logan Lucky. But Hilary Swank says that taking on the role of an American astronaut in the new Netflix series Away has been one of the most exciting.
"I actually wanted to be an astronaut before I wanted to be an actor," shares Swank, 46, who portrays a commander embarking on a three-year voyage to Mars. "I love the whole idea of space exploration — something bigger than all us looking back down at Earth. There are no boundaries. It's a beautiful thing."
Article continues below advertisement
WE LOVE LUCY! INSIDE THE INSPIRING & DARING LIFE OF LEGENDARY COMIC LUCILLE BALL
Here, the award-winning actress chats more about the show, the challenges of mimicking zero gravity and her thoughts on traveling to the moon!
Was playing an astronaut everything you dreamed it would be?
HS: It was more physically challenging than I actually had anticipated! Pretending you're in zero-G — it takes a lot to make it look effortless. We were harnessed by the lower part of our hips and they were acting as a pendulum.
So we'd squeeze our glutes to move us forward, and then squeeze our abs to move us backward. But the whole time, we were squeezing these muscles so tight and trying not to talk funny because of it.
So you and your costars were on wires? Was that difficult?
It took a real effort. We had to figure out how to cross and fly by each other. And we all had to be on our A-game, because one person could be doing the perfect fly-by with a monologue, and if another person is standing in the way, we'd have to redo it. It's definitely a dance that took a lot of figuring out.
Article continues below advertisement
DEBRA MESSING SHARES TRAILBLAZER LUCILLE BALL'S LEGACY IN REELZ DOC
Were the space suits heavy?
They were no joke. They were not made to look real, they were like… real. I think you could go to space in them! We used the real fabrics, and the hardware was really heavy. I think a suit, along with the backpack, weighed somewhere around 35 pounds. That was a lot of sweat!
Tell us more about your character. She's not just an astronaut, she's also a wife and a mother.
These writers wrote such an immensely deep, layered human being. There's a lot of modernness to her story. And I know you didn't ask this, but with all the characters, it shows how colorful the world is.
For so long, we've been seeing from the white male point of view. And this show is just so rich with all the different races, an LGBTQ storyline — it's showing a colorful part of the real world, and I really appreciate that. It's one of the big reasons why I wanted to come on board not only as an actor but as an executive producer.
If given the opportunity, would you go to space?
I don't think I would want to go to Mars if it took three years, but the moon, 100 percent.