NEWS
How Caroline Manzo Lost 20 Lbs.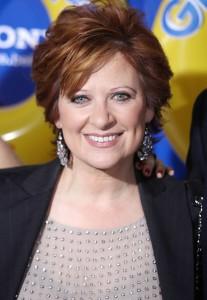 Now that Real Housewives of New Jersey star Caroline Manzo has dropped 20 lbs. since starting her diet in March, she notices that people treat her differently. (She credits portion control, cutting soda, eating earlier in the day – and Flintstones vitamins!)
"I find that amazing," the married mom of three, 48, tells me. "I do. It sucks. It sucks a little bit because people always respected and appreciated who I was, but now it's funny, it's like 'oh my God, the weight loss!' That's crazy to me, but I guess that's our society – it's based on what you look like instead of who you are. It sucks a little bit – I'm not going to lie. I appreciate it, and I'm grateful for it, but couldn't you love me when I was twenty pounds heavier?"
Article continues below advertisement
She continues, "Chubby girls have a lot to offer, too. Give us chubby girls some love. laughs I did it for health reasons, I wasn't feeling good, I'm getting older. I'll be 49 next week, and the wheels are starting to fall off. You have to worry about diabetes setting in, or high blood pressure. You have to take control of your body. I never was ashamed of being heavier, it's something I decided to do watching my husband lose 100 lbs. through lap band surgery and starting not to feel good that I'd better take control of things."
Currently weighing in at 121, she sets her sights on a goal weight of 115.
"I will cap it off after six pounds, but I will maintain," she says. "I'm certainly not going to be one of those people who are going to keep going."
How does her family feel about her new look?
"They love me anyway, the same way I loved him when he was so heavy. It doesn't even come into play. The kids tease me – 'mom, you've got big hoop earrings on now,' stuff like that, because I'm not going to have my face get big, so I would wear my studs all the time. Now I'll wear fun earrings and dress differently – age appropriate, but differently, because you feel better about yourself."
Article continues below advertisement
She shares her five weight-loss rules.
Eat smaller portions.
"If there's a piece of cake in front of me, I'm going to have maybe three forkfuls, and that's it," she says. "I am very strict with it. In the beginning, it's difficult to eat smaller portions. I'm not going to lie. It's difficult, and you almost go through a withdrawal – you get headaches and stuff like that. You get moody. But I feel so good now. I feel so much better. I feel lighter, I don't feel bloated anymore. My face has lost that bloated, watery look to it, and I feel good."
MORE ON:
Red Carpet Confidential
She continues, "Once you start to feel good, you're like 'why do I want to eat this whole piece of cake and go back to the way I felt?' I had the cake, I enjoyed a little bit of it, I got that sensation of wanting it out of the way, and I don't want to eat the whole thing. But we're conditioned to eat the whole thing – we continue eating when we're not even hungry."
Replace soda with water.
"I cut out soda, I cut out high sugar-content juices. I felt like it's a lot of hidden calories in there, the carbonation can't be good for you – not that I drank a lot of soda, but I found that when I went to sit down at a restaurant, that's the first thing you order. I'm not a big drinker at all. You order a soda or an iced tea. I said 'you know what? Just give me water because I need to drink water, I need to hydrate.' It's better for your skin, your body -- especially during the summer months. I j conditioned myself to drink water, and I was the person that hated water. You could not give it to me for all the tea in China. Now that's all I drink."
Article continues below advertisement
Eat earlier in the day.
"If I do want pasta, I try to have it earlier in the day, so as the day progresses, I eat better," she says. "If I'm craving something, I'm going to have it earlier in the day. I eat earlier in the day because you have time to digest and process food rather than going to bed around your stomach. I usually stop eating around 6, 7:00 at night. If I want something, I'll have fruit or something light like celery with peanut butter on it, just to satisfy eating something."
"This is per doctor's suggestion. When my husband had the lap band surgery, he said 'you have to take one Flintstones vitamin a day. A chewable Flintstones vitamin a day.' He said, 'you're serious?' and he said 'I'm serious. They're the best nutrients.' I was like 'he's a grown man,' " she says.
"But now I take a Flintstones vitamin every morning. I have a good energy level. It could be from a lot of things – it could be from cutting out all the soda and juices and drinking only water, and now you're detoxing yourself naturally. It could be from being a lot lighter and feeling better that I have a better energy level, or it could be from the vitamins. Who knows? But I do take one Flintstones vitamin a day. My favorite is grape. cackles"
Never count calories.
"It's too much work," Caroline says. "Life is about living. Live your life, but live it smart. I watched my husband lose 100 pounds by eating whatever he wanted whenever he wanted, but by eating small portions. Guess what? We could all do that."
To learn the diet secrets of Caroline and the other Real Housewives of New Jersey, pick up the OK! on newsstands now. The cover line is "The William and Kate Wedding Tell-All!"