NEWS
Howard Stern Makes 7-Year-Old Cry on 'America's Got Talent'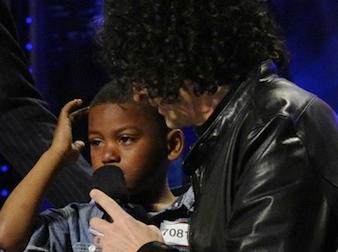 View all comments
Last night on America's Got Talent, Howard Stern helped console a 7-year-old contestant, Mir Money. However, that came after Howard pressed his "X" buzzer during the kid's performance, giving the aspiring little star the ax — which led to the tears.
OK! NEWS: HOWARD STERN IMPRESSES ON AMERICA'S GOT TALENT DEBUT
Although Howard tried to explain why he pressed the buzzer, the adorable kid couldn't stop crying. Despite boos from the crowd, Howard went onstage to try to boost the child's confidence and calm him down, explaining he didn't want to make him cry. "You're a terrific young man," Howard said. "You are so brave."
Article continues below advertisement
OK! NEWS: HOWARD STERN SLAMS JIMMY FALLON FOR REACHING OUT TO JAY LENO
This left the shock jock feeling the tough ramifications on his new gig. He told host Nick Cannon, "This job is too rough for me, I don't really wanna do it anymore.... I'm not cut out for this, man. I'm not cut out for it. I'm shaking man, I'm shaking. I can't do it, man. I can't do it."