NEWS
Hugh Jackman Packs on Pounds for 'Wolverine'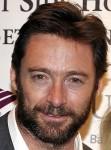 Imagine, if you will, taking on a role that you can eat anything you want! That's just what Hugh Jackman is doing for The Wolverine, the latest movie in the X-Men series. The native Australian is actually eating 6,000 calories a day to get into buff superhero shape!
OK! GALLERY: HUGH JACKMAN WORKS OUT WHILE KIDS PLAY IN NYC
Although director Darren Aronofsky had Natalie Portman and Mila Kunis drop the poundage for Black Swan, for the next X-Men film, The Wolverine, he has the opposite instructions for his star.
Article continues below advertisement
OK! GALLERY: HUGH JACKMAN DOES SOME LAST MINUTE HOLIDAY SHOPPING IN MELBOURNE
Hugh explains to The Los Angeles Times (via The Huffington Post), "Darren said with the last one, 'Hey you looked great, but you're so tall that in those long shots you looked kind of like Clint Eastwood, and that's not Wolverine.'" He adds, "He said that Wolverine, in the comics, is powerful, stocky...he's short and thick. So he said, 'I want you to go there, get bigger.'"
And from the director's mouth to Hugh's ears, it looks like his waistline will indeed expand!