NEWS
Idol: What You Didn't See...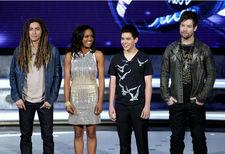 David Cook flirted with Paula Abdul, a stroke of luck saved (some of) Jason Castro's blushes, and the Idol staff flip-flop on swaying. Here's what you didn't see from last night's Rock n Roll Hall of Fame-themed show.
Guns N' Roses star Slash was roaming around the parking lot outside the Idol set before the show, apparently having lost his car. With his signature top hat in hand, the guitar hero walked with a driver who told him, "all the limos look the same". Slash must have lost his ticket for the show too, because OK! didn't spot him inside CBS Television City.
Article continues below advertisement
We did see Jamie Lynn Sigler, Brittny Gastineau and the Rascal Flatts. From the not-ending-up-on-eBay department: Brittny Gastineau had to spit her gum into a Styrofoam cup belonging to an Idol staff member, because there is no gum allowed in the stands.
Perhaps the girl who had Randy Jackson sign her red top during the commercial break would have more luck hawking her momento online. Would that increase the value though? Tough call.
To avoid a repeat of the confusion last week that led Paula, cringingly, to judge a song that hadn't been sung, the producers had switched back to the familiar format for tonight.
When Ryan Seacrest told the viewers at home that we were going back to the old rules, there an sigh of relief from the studio audience, who immediately swung their heads to see how Paula would react – a mere smile to Seacrest.
Article continues below advertisement
It was the audience's turn to be confused this week though. The Idol staff told them there would be absolutely no sway in time to the music. But during Syesha's performance staffers started urging them to, er, sway!
Before the show started, Simon Cowell went over to fallen Idol Carly Smithson, who was in the crowd sitting in the front row. He kissed her on the cheek and chatted with her up until the show got started.
After David Archuleta's performance, his father, Jeff, also went over to chat with Carly, who was placed squarely in shot behind the judges throughout the show. Not so visible was another fallen Idol, Luke Menard, not heard from since he crashed out during the semi-finals.
David Cook flirted with Paula a little during his performance. When he sang the line "on the hunt after you," he pointed straight at the judge, who pointed right back and stood up to dance.
Article continues below advertisement
After his performance, he got a vote of confidence from Corey the warm-up guy. "Who's going to go home and download that right away?" he asked.
Jason Castro forgot the words to Bob Dylan hit Tambourine Man, but he may have benefited from good camera work. By what would seem like a stroke of luck, since the show is live, the look of embarrassment that spread across his face as he hums his way through the missing lines was not shown on TV.
There was a moment of solidarity after his performance, when Carly Smithson stood up to applaud – she was the only one in her area to do so.
After cameras stopped rolling, Seacrest told the studio audience to say goodbye to the top four. But by that point, Castro seemed to have taken Simon's advice to 'pack his bags' to heart: he was almost totally off-stage as the others waved to the crowd. Aruchleta followed him for support.