NEWS
Immigration Officer to Rachel McAdams: "Stop Making Stupid Movies"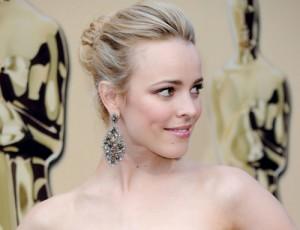 Rachel McAdams would be one of the young starlets in the running for America's sweetheart, except for one thing: the actress isn't American! Most people probably don't even realize The Notebook star is Canadian, due to the fact that Rachel has possessed a green card for years and is constantly making the journey across the border. This trip is typically easy for Rachel, but a few years ago an American customs official recognized the star and began to harass her.
Article continues below advertisement
"She kicked me to the curb," Rachel told the New York Times in a recent interview. "She was tough. I had pink hair at the time, and she said, 'Don't dye your hair that color, and don't make any more stupid movies."
With much more grace than most people would display, Rachel didn't bother to inquire which films the officer had been alluding to. "I was just glad she let me through," she said.
Rachel rocked her controversial pink highlights back in 2007, so the immigration official could have been referring to various films of hers made in the previous years since her Hollywood debut in 2002.
Most likely, the harsh criticism was sparked in part by her first major role in teen flick The Hot Chick. It's funny to think that Rachel, who would go on to work with Oscar nominees and winners Ryan Gosling, Russell Crowe, Robert Downey Jr., and Helen Mirren, once starred in a body-switch comedy alongside Rob Schneider (which really is as bad as it sounds).
Article continues below advertisement
OK! GALLERY: RACHEL & OWEN ON THEIR 'MIDNIGHT IN PARIS' STROLL
But teen comedies weren't always such questionable choices for Rachel. Her breakout role came in her portrayal of bad girl Regina George in Mean Girls back in 2004.
In the years leading up to the immigration incident, Rachel also starred in The Notebook and The Family Stone, both solid films which showed off the actress' range and maturity. But at the same time, she also starred in Red Eye and Wedding Crashers, which may have helped provoke the customs officer harassment.
OK! GALLERY: RACHEL MCADAMS IS EASY BREEZY IN THE BIG CITY
In the end, it really doesn't matter what films the airport employee was referring to exactly, since it was not her place to interrupt Rachel's trip with their personal criticism of her career.
OK! NEWS: 'MEAN GIRLS' LEAVES LINDSAY LOHAN OFF VIDEO GAME COVER
We do have to wonder what the customs official thinks of Rachel's upcoming film Morning Glory in which she stars alongside respected actors Harrison Ford and Diane Keaton? Or her Woody Allen film Midnight in Paris coming out next year? Or her role in the yet-untitled film with Badlands director Terrence Malick? Are these just more "stupid movies" to add to her resumé or do you think the customs officer might have changed her tune?