NEWS
IN THIS ISSUE: Eavesdropping on Rob & Kristen!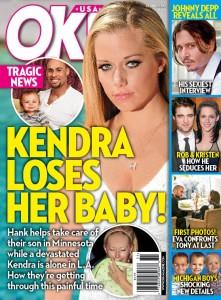 For the first time ever, a conversation between Robert Pattinson and Kristen Stewart gives fans a glimpse into their super-flirty — and super private — romance! On the newly released Special Edition Blu-ray plus DVD of The Twilight Saga: Eclipse, fans get the treat of listening to a two-hour phone conversation between Rob and Kristen. This week's issue of OK! breaks down the highlights of what the stars revealed about the film — and each other!
Article continues below advertisement
Not even distance can damper their chemistry
The conversation was recorded while Kristen was finishing On the Road in Montreal and Rob was in L.A. recording the film's commentary. Even though they were miles apart, the couple couldn't hide their affection for each other over the phone. They giggled as Rob admitted Kristen's vampire bite reaction was "a lot sexier" than Xavier Samuel's and Kristen referred to Rob's comments as "the musings of RPatz," playfully telling him to "shut up" when he got too personal.
Article continues below advertisement
Rob didn't wear lipstick, but someone did...
"Everyone always says that I'm wearing lipstick, but I'm not," insists Rob. The actor did reveal that the same could not be said for Jackson Rathbone. "Jackson's lips are apparently a really unusual color so he's the only one who has to wear lipstick, well, not lipstick, but, you know, stuff," Rob laughed.
All the Cullens hit the gym, except for Rob
"So much of the cast got obsessed with going to the gym... People who didn't have to," recalled Rob about the fitness craze the actors experienced while making Eclipse.
"Losers!" he joked, boasting, "I didn't go once." But then Kristen forced him to admit he did exercise "a couple of times" but was banned from working with the kick-boxing trainer after he hurt someone's hand while training on the set of New Moon.
Article continues below advertisement
COVER STORY: A 'TWILIGHT' BABY!
What makes Kristen nervous
Kristen revealed that it wasn't the steamy sex scenes that had her nervous before filming Breaking Dawn. Instead, the actress revealed she was more worried about becoming a vampire, because Rob had "talked about it so much, how it's so difficult to play."
FOR MORE ON ROB & KRISTEN'S CONVERSATION, INCLUDING THEIR REACTIONS TO THE MEMORABLE MEADOW KISS, PICK UP THIS WEEK'S ISSUE OF OK! — ON SALE EVERYWHERE NOW!