NEWS
Jessica Simpson Has No Regrets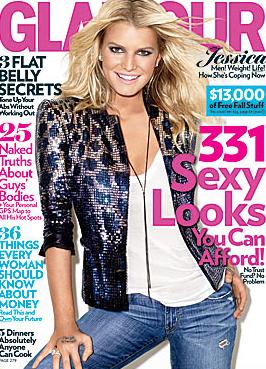 In a candid interview in September's Glamour, Jessica Simpson seems to be giving her future self advice about living her life to the fullest and being happy with herself, even before she and Tony Romo ever broke up.
"I don't regret anything I've gone through," she says in the interview. "I don't know what the future holds, but I hope that my life, as it is now, doesn't change. I'm very happy and comfortable—it's a great place to be in. If this article comes out and we're not together, I'd still love Tony, and he'd still be a huge part of who I am today."
Article continues below advertisement
But now that her and Tony's romance is over, don't expect to see Jess walking down the aisle anytime soon, as it took her long enough to get over the end of her marriage to Nick Lachey.
"It was hard to imagine I would ever walk down the aisle again," she says of the split. "It was like a death in the family: You go through the mourning stage, then the rebellion, and then all of a sudden you have to find life by yourself. Once you do that, you feel complete—and that's the only time you can truly fall in love again, and give yourself over completely to another person."
And while she and Tony were still together at the time of the interview, even he seemed to give her good advice to follow on how to live her life and leave behind her legacy.
"My ex Tony said, 'Jessica, at the end of your life, the only thing that's going to flash through your mind and heart is your husband, kids, family and the people you love. You're not going to think, I wish I'd done this with my career. And I'm not going to remember how many touchdown passes I threw or if I won the Super Bowl,' " she rveals. "Music is the heart of who I am, and it's the most personal thing that I do."