NEWS
Johnny Depp Apologizes for Insensitive Comments Comparing Photo Shoots to Rape: "I Am Truly Sorry"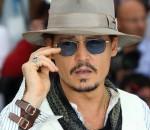 We have to admit, we totally saw this coming. After Johnny Depp compared photo shoots to being raped, he apologized for his insensitive comments by writing an apology letter to RAINN, the anti-sexual violence organization.
As reported by RadarOnline, the Rape, Abuse and Incest National Network (RAINN) originally responded to his comments made in Vanity Fair which expressed, "Well, you just feel like you're being raped somehow. Raped…It feels like a kind of weird – just weird, man."
Article continues below advertisement
RAINN responded to this comment by stating, "While photos may feel at times intrusive, being photographed in no way compares to rape — a violent crime which affects another American every two minutes."
Well, in response to their note he followed up by stating, "I am truly sorry for offending anyone in any way. I never meant to. It was a poor choice of words on my part in an effort to explain a feeling." He added, "I understand there is no comparison and I am very regretful. In an effort to correct my lack of judgment, please accept my heartfelt apology."