NEWS
Johns Left With 'Bad Taste' After Idol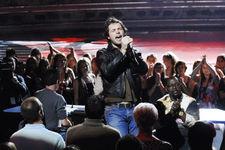 It sounds like Michael Johns is more sour about the trick that Idol played on him than he first let on.
The eighth place Idol says that he has been left with a 'bad taste' in his mouth after the show and has ignored invitations to be in the studio audience.
Just before Ryan Seacrest told Michael, 29, he had been voted off the show during Idol Gives Back week, he cruelly let him believe that he had been saved.
Article continues below advertisement
The host pointedly said that on the Gives Back show the year before, no one had been sent home -- then said that wouldn't be the case this time around.
At the time, Michael said that he understood that the show is entertainment and that producers need to ratchet up the drama.
But now he has told ESPN's Tony Kornheiser Show that, three weeks on, he still resents the cheap trick.
He told Kornheiser that the Idol team want former contestants to go back to be in the audience during the live shows, but said:
"I haven't gone back. Everyone has asked me why I haven't gone back, and to be honest I don't really have a wanting to.
"Part of it's a bad taste I still have in my mouth a little bit from the way I was voted off -- the whole rollercoaster of that.
"And the other thing is I just, I've got other things going on.
"It's nothing to do with not liking anyone, it's just kind of like, 'ok, that was chapter in my life and now I'm ready to go to work.'"
Michael says that he will go back for the finale, as all the contestants are expected to show up.