NEWS
Kanye West Bashes Kim Kardashian's Sex Tape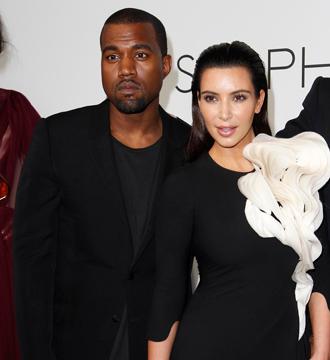 Here's a personality test: Your significant other made a sex tape during one of his or her previous relationships, and the graphic footage is available for viewing.
PHOTOS: The Full Visual History of Kim Kardashian's Sex Tape!
You will:
A.) Watch it — at least once.
B.) Refuse to watch it, even if someone handcuffs you to the screen.
If you're Kanye West you answered B. As many have seen via the Internet, the rappers' platonic pal turned girlfriend, Kim Kardashian, appeared in an explicit bedroom romp with her singer-actor ex Ray J, which was released in 2007 and vaulted her into celebritydom.
Article continues below advertisement
And as Kanye has confessed to friends, he wants no part of it.
"When some of his buddies were teasing him about it over a few beers just recently, he went crazy and told them in no uncertain terms that the subject was completely off limits," a longtime Kanye pal tells OK!. "At first they thought he was joking, but he was deadly serious. Kanye never, ever wants to see the tape, and he has banned anyone in his entourage from even talking about it."
Quite an admission from the author of some — well, frank —lyrics. Who can forget "Monster" with its images of pharaohs getting it on in sarcophagi?
OK! GALLERY: KIM KARDASHIAN & KANYE WEST'S NYC LUNCH DATE AT SERAFINA
Still, Kanye has boundaries.
"For all his bad-boy image, he's quite old-fashioned and while they were still just friends he thought it inappropriate to view Kim's tape," the pal adds. "Now that they are a couple, there's no way Kanye is ever going to look at it."
FOR MORE ON KIM AND KANYE, PICK UP THE NEW ISSUE OF OK!, ON SALE NOW!