NEWS
Kanye West Gives Props to 50 Cent & Outkast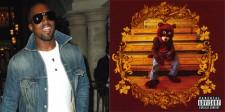 Looks like Kanye West is taking on an (almost) humble attitude after his character was tarnished due to his verbal attack on Taylor Swift. The rapper took to his blog to express his gratitude to Entertainment Weekly for naming College Dropout as the #1 album of the decade. "Wow, this is really flattering," Kanye blogged.
"I've had some ups and downs this year, well actually this decade," the rapper continued. "Just seeing this cover takes me back to that time of my life. I remember how much pain and love went into this album. No one saw it coming."
Article continues below advertisement
He also shouts out fellow artists 50 Cent and Outkast for their hit albums.
"I loved Outkast's The Love Below and 50 Cent's Get Rich or Die Tryin also," Kanye writes, recognizing the hard work and revolutionary records of his contemporaries. "They both equally deserved the No. 1 spot in my eyes, but there can only be one No. 1!!!"

And Kanye is perfectly pleased holding down the top spot.
"This album wasn't about me, it was about a time in peoples lives where people force opinions on you and you have to make choice for yourself," he said of 2004's College Dropout. "We loved 50 Cent, but we wanted to be the Yang. We wanted to wear pink polos and rap about being hurt instead of being invincible."
The rapper learned this year that he is not invincible to Hollywood scrutiny, especially when you mess with America's golden girl.
Holding down the number No. 2 spot is Jay-Z's The Blueprint released in 2001 followed by the Kid A (2000) by Raidohead at No. 3.