NEWS
Kanye West: "I'm Not Performing On the 'Today' Show"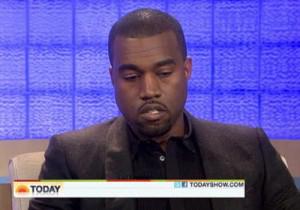 After Matt Lauer announced he was standing by what happened during his interview with Kanye West on Today, he also announced that Kanye would be returning to perform on the plaza on Nov. 26. But Kanye says he's canceling that show!
OK! NEWS: MATT LAUER SAYS "WE STAND BY WHAT HAPPENED" WITH KANYE WEST
After Matt's new segment aired on Today, Kanye took to his Twitter account (via MTV News) once again on Friday morning from Dubai to tells fans he will not be performing on the show like Matt said.
Article continues below advertisement
"I'm not performing on the 'Today' show for obvious reasons," Kanye wrote. "I'm so happy the world got to see a small piece of 'the set up.' I blatantly said I'm not performing on the show on a tweet ... and the next day they still announced a performance.
"Do you guys see what I'm saying now?" he continued. "This is just a small slice of the day-to-day bullsh-- that goes on that helps to precipitate the idea that I'm such an a--hole. Cause when I don't perform 'Oh Nooow I'm the one that's crazy or a jerk.' "
And Kanye is hoping that his fans are on his side.
OK! NEWS: KANYE WEST TWEETS — MATT LAUER "TRIED TO FORCE MY ANSWERS" ON TODAY
"I want you guys to look at that footage and start to put everything together now. It's very simple to call someone angry or spoiled or the one thousand names I've been called, but it's harder to try to take a look at what's really behind the curtain," Kanye wrote. "I'm so happy that my real fans are not as 'basic' as the media makes them out to be. Did you see them try to justify playing the audio of West's infamous VMA run-in with Taylor Swift under my interview? Yo, sometimes you're just wrong and it ain't nothing you can say to justify it. Believe me, I know!"
Article continues below advertisement
But Kanye is trying not to hold a grudge.
"I'm not complaining. I'm tweeting because I'm so happy you guys got to see this sh-- really go down."
OK! NEWS: GEORGE W. BUSH 'S "MOST DISGUSTING MOMENT": KANYE WEST CALLING ME A RACIST
"I don't hate Matt Lauer ... we don't promote hate. That's the whole point. I promote love and truth," he added. "You know what? We off that! They made a mistake. They thought they could pull it but they couldn't. That was just a small representation of a bigger media play that's been going on since the beginning of time. All positive energy ... all smiles. Much love to Matt and the whole 'Today' show. I accept ya'll future apology in advance."
And while he tries to make peace with the Today show, it still doesn't seem like he'll be making his next scheduled appearance on the show.