NEWS
Kathy Wakile A La Carte: How to Have a Perfect Beach Day!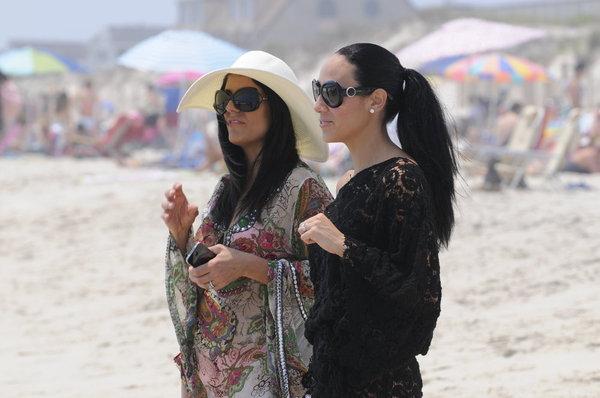 Don't let the recent chilly weather on the East Coast fool you—there's still plenty of beach days left this summer! Real Housewives of New Jersey star and OKMagazine.com columnist Kathy Wakile is sharing her tips for the perfect day on the sand. And it's pretty delicious, of course!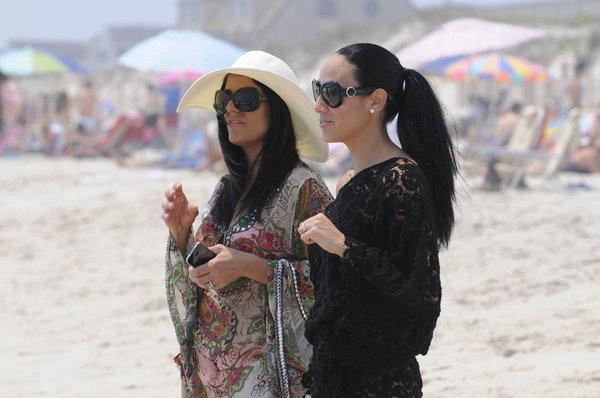 OK!: What's your perfect beach day?
Kathy Wakile: Bright sun, picnic basket filled with fresh fruits and cheeses and wine, great tunes on my iPad, and my family. I'd like to be there from sun up to sun down.
Article continues below advertisement
OK!: Do you like to lie out, or are you more active and swimming?
KW: I try to stay in the shade as much as possible, even though I used to be a sun worshipper. I wear big hats, like my favorite one, which is a straw hat from J. Crew. I love it, and I keep it on all the time, with big wide sunglasses from Ferragamo. I love sitting there with a good book, and my cooking magazines.
OK! News: Kathy spills—is it really a good idea to go into business with your husband?
OK!: Can you recommend a beach read?
KW: I haven't had much time at the beach this year, but I've started Gone Girl, and I love it.
OK!: What do you pack as far as food?
KW: Fresh fruits, for sure. I'll make little salads, too. I'll mix up some tuna salad or chicken salad and I won't use mayo, lemon juice or olive oil so it'll keep, with a lot of vegetables, and I'll use romaine lettuce instead of bread. It feels substantial. Definitely love peanuts, I'm a big nut girl. My husband, too. Even a lentil salad, I'll bring to the beach. When I was a kid, my mother used to make frittatas, and that's another good thing to bring to the beach. They don't have to be hot. I'll make mini frittatas, and they'll bring the protein and vegetables.
Article continues below advertisement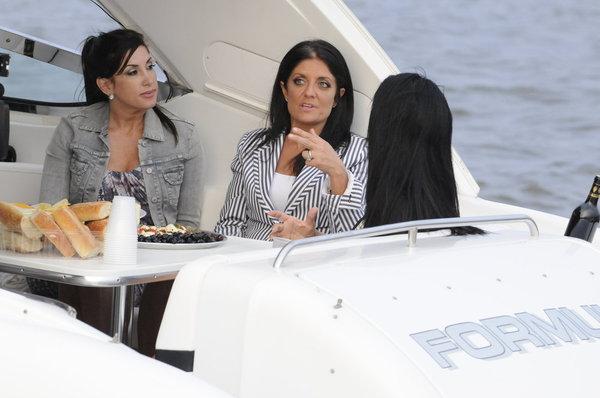 OK!: What's your beauty routine for the beach?
KW: I usually don't wear too much makeup, but I'll wear a tinted moisturizer, with a zinc-based product underneath that blocks out all sun, like a primer. It isn't water-proof, so I have to reapply. I always, always have lipstick on. I'll try to find something with an SPF so my lips don't burn. And I don't go anywhere without concealer under my eyes. But all on the light side, and it keeps me from going out into the sun because I don't want to sweat up a storm with makeup on.
OK! News: Hear about Kathy's newest business venture!
OK!: What about your swimsuit style and favorite brands?
KW: Well, I love bikinis, I do, but these days I'm not feeling the bikini body, so I need a great cover-up. One of my favorites is Camilla, they have great patterns, kimono-type, caftan-type cover-ups. A gal named Tamara Magel, she makes these beautiful silk caftans inspired by Positano, in Italy. You can wear them beach to night, they're very beautiful. You feel like a goddess when you're wearing them.
Don't forget to tune in for a brand new episode of the Real Housewives of New Jersey this Sunday night at 8pm ET on Bravo.
And do you have a question for Kathy about anything from lifestyle to entertaining to relationships to beauty? Be sure to tweet us your questions to @OKMagazine with #OKAskKathy. Check back for a brand new column next weekend!