NEWS
Kathy Wakile a la Carte: How to Vacation Drama Free!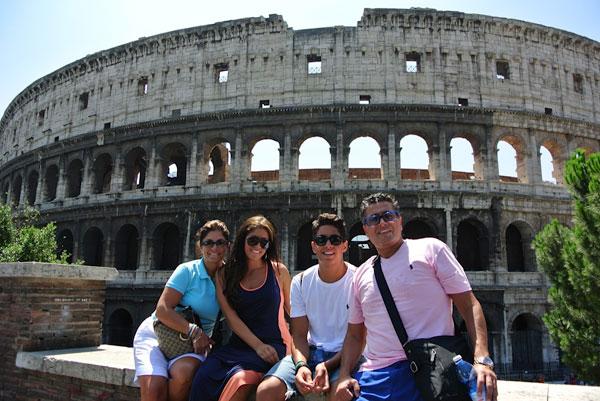 It's time again for Kathy Wakile a la Carte—OKMagazine.com's exclusive column with the Real Housewives of New Jersey star. Each week, Kathy is dishing on how to keep you life sweet—in and out of the kitchen. And this week, she is giving us ALL the details on her amazing family vacation to Italy. Kathy, her husband Richie and their kids Victoria and Joseph spent three weeks driving throughout the country—visiting family, meeting the locals, eating amazing meals and getting in some much needed family time without the cameras rolling. But not to worry—Kathy is reliving all the highlights of her trip just for us and sharing her best tips for the next vacation you plan on taking!
Article continues below advertisement
OK!: First things first. When you were getting ready to leave, what were the items on your must-have list to pack?
Kathy Wakile: A series of different types of shoes—shoes are my first thing because that's how I plan my outfits. And, since we were going to be doing a lot of walking I had a lot of different sandals and flats and then a few pair of heels, but mostly wedges because everything there is cobblestone. Then a lot of sundresses that could go for either day or night so you always look finished without looking too dressed up. I brought long maxis or just really loose fitting easy dresses. They packed easy, that was wonderful.
OK! Exclusive: Kathy Wakile Shares Her Beauty Secrets!
OK!: How many suitcases did you bring?
KW: Oh my God. We brought six all together with the four of us so the kids each had one and then Rich and I had two each. It wouldn't have been so bad but we we're driving these little cars and nothing fit. We used Samsonite luggage because we packed so much and it got tumbled and pushed from the airport plane to the car to the hotel and the cobble streets—they take a beating. It's the only luggage I use because of that. Rich throws the luggage around!
Article continues below advertisement
OK!: Do you have a travel bag you take with you from city to city? What are things you have to bring along?
KW: My camera first of all. Sunscreen which I did pack and I did use, but you would never know it because I got so brown. The sun was just unbelievable. I wore hats. If I didn't have those hats I would be a mess. I had these big wide brim straw hats everywhere I went during the day, I kept one of those on because you just needed it to be shielded from the sun. The sun is strong, but I didn't burn once. It wasn't humid so you could stay out there longer than you normally would be able to. I had a really great pair of sunglasses that block out the sun because its just so bright everywhere. And, since the weather is dry, you need a really great moisturizer. I use Neutrogena Sesame Oil which I love. I'm also a big fan of Lubriderm products. They moisturize and give you a nice glow at the same time too. And Aquaphor. I bring Aquaphor everywhere I go. It's great for feet, it's great for your hands, it's great for your lips, it's great for if you get a burn—it's great for everything.
OK! Exclusive: Kathy and Rich Break Down the Latest RHONJ Drama!
OK!: You guys were there for three weeks and you drove to many of your destinations. How did you plan and decide where to go?
KW: It's a lot of planning because you don't know what to expect when you're in each destination. But, we flew into Rome and we really didn't have a set plan. I just knew that the first three cities I had mapped out already and so what I did was I just opened up a map and thought about what makes sense. We flew into Rome and we went North to Siena and then to Florence and then we drove East to Venice and then we drove down the East Coast down to Pescara to visit a friend of mine that I went to high school with that moved there and then we drove across the country West to the Amalfi Coast area and we stayed there for a good few days. We went to all the surrounding towns there and then we went to Capri and we went to Ischia which is another island that not too many Americans know about. It's a big European vacation spot. Then we drove up to Naples and took the Ferry with our car on and we went over to Ischia and stayed there for a few days. I'm glad that we left that beachy area for the end because we needed to relax because we were doing so much traveling back and forth.
Article continues below advertisement
OK!: What are your tips for being in the car that much—especially in a foreign country—with the family?
KW: It takes a few days for your attitude to shift and the tension to get out of your body. It's like, 'Okay guys, we're on vacation so let's take everything with a grain of salt—we're in a different country. Let's all keep that into perspective and let's just have fun in every situation.' You have to make the best of everything because even if we're lost? Okay we're lost in Italy! It could be worse. It was about keeping everything in perspective. Even the gas stations there are like nothing you've ever seen, you know? They're amazing. You get full on food there—espresso and panini and ice cream and just they're beautiful cafeterias set up in these gas stations. And they work on an honor system—it's so weird. You pay first and then you go pick up your stuff after laughs.
OK!: How did you plan the trip so everyone got something out of the trip they wanted?
KW: As the trip went on, my kids would tell us, 'I read about this and I read about that and you know what, maybe this is a good place we should check out.' They were choosing restaurants and finding things that were out of the way so we ended up going to restaurants that were way off the beaten paths. We would ask people, 'Where is the place the Italian people go to in the villages?' That's where we wanted to go. We didn't want to go to all the touristy spots. There are places outside of that that we went called agriturismi—they are set up by the government. They're actually farms that have been converted and they get a tax break if they serve food that they harvest off their land—milk, cheese, sausage—whatever they're serving and it's farm to table right there. It's really wonderful because they're a lot less expensive and you get real home cooking. There's homemade wine, homemade cheese, artisan pastas, any produce that they've picked out of their own garden, desserts. Everything is done by hand and homemade and it's wonderful. When we go on vacation wherever it is, we like to go off the beaten path. We'll get lost and say, 'Oh this looks like a pretty cool place—let's meet the owner.' Rich did that in every single place that we went to. 'Who is the owner? Who is in charge here? Let's have a chit chat.' You get to connect with people that way because travel is about seeing beautiful sites but it's also about the human connection and that's when you really get something wonderful out of your trip. Taking the time out to hear somebody else's story you know?
Article continues below advertisement
OK! Exclusive: Kathy's Writing a Dessert Cookbook and We Have the Deets!
OK!: Do you make friends on this vacation?
KW: Rich and I were in the Amalfi coast seven years ago and we wanted to eat local. We asked the hotel to recommend a place that served seafood and the owner didn't speak any English. So, she called a friend of hers that lived up the street who spoke English to wait on us—to come and help out. That's the way things work there. We got really friendly with him and exchanged phone numbers. So, this time as soon as we arrived, we called him. We hadn't talked to him in seven years and my husband called him and he said, 'Richie, how you doin'? You're here? We're going to dinner tonight!' He wouldn't take no for an answer. He found us in town, picked us up in his van and we went to dinner with his whole family!
OK!: Were you inspired by the food you had to come back and try new things in your own kitchen?
KW: I had gelato in every city—twice. There's so many different flavors to choose from and there were certain ones that every city has that's their best. There were so many different flavor combinations that were just so different and so wonderful, so that really inspired me. The food is the freshest you could get it and everything is pretty much farm to table and home grown, organic and sun ripened. Everything is at the peak of flavor there and everything is served as simple food done right. Nothing fancy—just simple food where you taste the flavors. Not a lot of oil and not a lot of salt because you didn't need it. Everything was just so wonderful. But, having said that, living in the Northeast, we have the best of the best of the best and we are so lucky that we can get these flavors. We have the finest chefs in our area that are getting inspired by recipes in Italy and throughout other parts of Europe. But you know what? There's nothing like my own kitchen. I'm a pretty good cook laughs you know so I'm like, 'I can make this! I'm not trying to toot my own horn, but 'Toot toot!' I was inspired by the freshness and the simplicity of the food. That's really what I take away from it the most.
Article continues below advertisement
OK! Exclusive: Kathy's Tips for Working With Your Husband!
OK!: Is the dining experience different in Italy than it is in America?
KW: Absolutely. It's slow and your big meal really is like 2 o'clock in the afternoon. You'll see shops start getting their things together at 1 o'clock, 1:30 shops start closing down and when you're on the beach, all of a sudden at 1 o'clock you see people toweling off, getting their cover ups on and closing their umbrellas. By 2 o'clock the beach is empty. The streets are closed pretty and everybody is having their big meal of the day and it lasts until like 4 o'clock.
OK!: Did you feel you needed to speak Italian on the trip? Would you recommend this trip to someone who doesn't speak Italian?
KW: Well in the cities, especially up North, mostly everybody speaks English. And if they don't speak English—you're in their country. So if they do speak English, it's a bonus but keep an open mind. You're in their country so you need to take it slow and keep a smile on your face and they'll be so nice to you. Especially if you go to a high traffic tourist area where like cruise ships let off. They get off the ship and they go to these local places right at the port and they expect things, they demand things right off the bat. Well you know what? It doesn't work that way. You're in their country. They do things at a slower pace. Take your time and put a smile on your face and enjoy the moment and you will get by just fine. When they didn't speak English, they were just so warm. Like in the South, they're just so warm and inviting and friendly and if you say one word like 'Ciao' or 'Arrivederci,' they're like, 'Oh Arrivederci Senora.' They're very friendly.
Article continues below advertisement
OK!: What was your absolute favorite place in all of Italy?
KW: I would have to say the Amalfi Coast and Ischia. I'm a beach girl so just the Amalfi Coast, the views were one more spectacular than the rest.
OK!: Did you stay on the beach there? What was your experience like there?
KW: Yes, we stayed on the Amalfi Coast, we stayed right at the tip of the Amalfi Coast, the Southern most tip which is near Salerno and the views, the town that we stayed in was called Vietri Sul Mare, 'Sul Mare' means 'at the beach' or 'by the ocean' and Vietri is known for it's ceramics. We had this amazing view, almost like you were in a ship with water everywhere around you and it was just spectacular. Everywhere you drive in the Amalfi Coast—you stop on the road and you have these ships and these yachts that are just pulling into these little coves and you look down and the water is as blue as could be. You just find people on a rock on the side of these little private coves, just laying out there on the beach. There's little stands with lemons the size of baseballs—as a matter of fact, I have some lemons that I got at the market today because I'm getting ready to make some gelato because I just had to have it. But, I would have to say the Amalfi Coast is breathtaking. That's one thing about Italy, each town in each region that you go to has it's own personality and it's know for certain specific type of food. It's unbelievable that you just want to taste everything. The bread and the pastries are unbelievable.
OK!: Is there any other food you're going to want to make?
KW: I definitely want to make these things called Tatales that my mother always made and they're like a biscuit. They're one of my favorite things that I grew up having and I miss them and so I'm going to attempt making them myself. My mother always made them so I never jumped in. They're crunchy, almost like a pretzel, but a biscuit and round. My kids love them and there's no sugar—it's just a savory biscuit. They go great with wine and cheese.
Article continues below advertisement
OK!: What is one country or place you've never visited that you want to go to next?
KW: I really would like to go to Portugal and Brazil. I'd love to go to Sardinia and Malta. They're really considered Italian, but not really, so I'd love to see what that's all about.
OK! Exclusive: Kathy's Baking Tips Anyone Can Try!
OK!: What is your overall tip to make sure you savor the experiences when you're on vacation? It sounds like you guys really just had the most amazing time.
KW: I think that the most important thing when you travel is just to enjoy the moment. There will be different things you're not used to especially when you're in a different country. You have to remember you're on vacation and it may be not as luxurious as you're used or it may not be traditionally what you're used to, but find the beauty in the simple things and really embrace it. Because you don't know when you're going to be back there again. Don't waste your time getting upset over stupid things—enjoy the ride. It's not so much about the destination it's about the journey. I feel that when you travel abroad that you're getting an education. It's a life experience and it's something that you really should embrace and take it all in. Italians don't rush like we rush, so it's a really valuable lesson. It's so important to embrace the fact that, yeah we're having lunch today and it's going to be probably three hours so enjoy it. I did notice unbelievable portion control. They eat everything, they eat more bread and more pasta and more pizza than we do here, but it's in portion control and they walk everywhere or ride their bike everywhere. They don't take the car out to go down the street. We walked so much that the first few days, all my clothes were loose. It was more of a hassle to take the car out because we didn't know where you would be able to park it, so we just walked and walked and walked and it was great.
Article continues below advertisement
OK!: It sounds like you just had the perfect trip.
KW: We did. It was great connecting with my family there too. My mom's brother lives there and my father's sister and cousins all are there. My parents were born in the same town so it was wonderful to revisit it and just spend some time there and take it all in.
Don't forget to tune in for a brand new episode of the Real Housewives of New Jersey this Sunday night at 8pm ET on Bravo.
And do you have a question for Kathy about anything from lifestyle to entertaining to relationships to beauty? Be sure to tweet us your questions to @OKMagazine with #OKAskKathy. Check back for a brand new column next weekend!