NEWS
Kathy Wakile A La Carte: How to Make an Amazing Cocktail!
It's the weekend! Time to let loose and have a beverage. Real Housewives of New Jersey star and OKMagazine.com columnist Kathy Wakile once revealed to us that she makes a mean red-velvet cocktail, but that we'd have to wait for the release of her cookbook, Indulge, for the recipe! In the mean time, we asked her about all things alcohol for this week's column.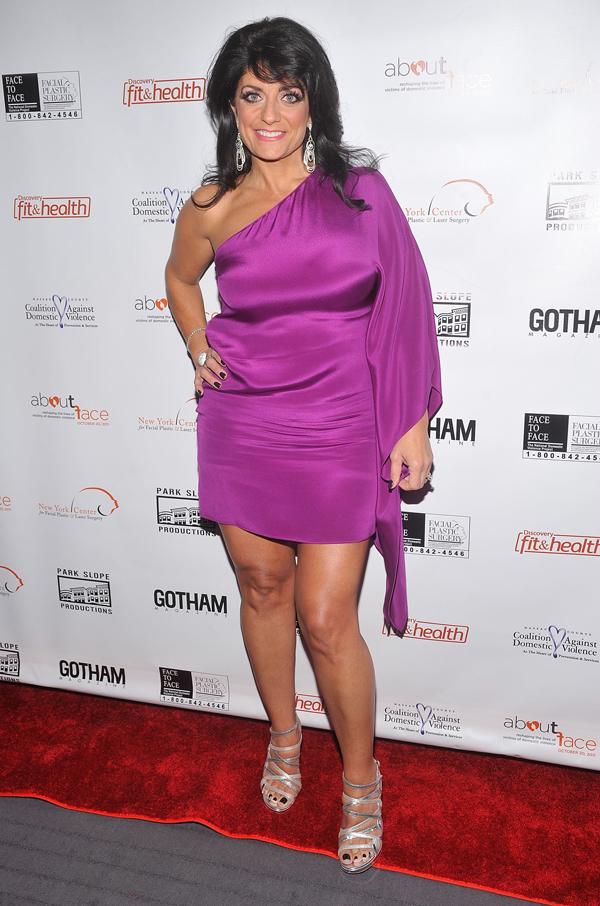 OK!: What's your favorite cocktail, and Rich's?
Article continues below advertisement
Kathy Wakile: We both love scotch. We're scotch drinkers. Johnny Walker Black, and we also love Patron tequila. With tequila, you can flavor it with anything. A lot of times I'll put a splash of grapefruit. Gin is a new favorite of mine. I'll do it with cucumber, and mint. It's delicious. So I'm pretty easygoing.
OK! News: Kathy Wakile explains how to change up your cooking for fall!
OK!: What should be in a well-stocked bar?
KW: A good vodka, because everyone seems to love vodka and it mixes well. A good scotch, and a tequila, and you're good. Lemon juice, fresh lemons, fresh orange juice, and I'm a big fan of pomegranate juice. You just need a little tiny bit. And you feel like you're doing something healthy, too! It's rich in antioxidants.
OK!: How do you make cocktails a little more interesting?
KW: I like to play around with different simple syrups. I like to infuse star anise into simple syrup ad have that on the side to mix into cocktails. That's a strong flavor—it's not for everyone. You can do the same thing with orange rind, or mint. You can easily have that on hand. It doesn't go bad. That's a great gift idea. Vodka infused with strawberry or pineapple is a great gift, and you put in a basket with inexpensive martini glasses and a shaker. Add a color in there; if it's strawberry, add red napkin holders.
Article continues below advertisement
OK! News: Read the recap of last week's episode of RHONJ!
OK!: Do you ever decorate the cocktail ware, like candies in a martini glass?
KW: I do this with desserts a lot. If I'm making tiramisu, I use coffee beans. If you're doing a red velvet cocktail, I'll rim the glass with crushed Oreo dust. I made a great cocktail with the red velvet vodka, the red velvet cosmo, and a little bit of cream. It was decadent and delicious. I definitely think you should rim the glass or have little candies in it. I love cinnamon, too, so I'll take little Red Hots and drop them into a martini, as a little surprise.
OK!: What about punches?
KW: The best thing to do with a punch is to work it into the theme. In the fall, work in a fall flavor like a cinnamon, a spice, apples. If it's summertime, use fresh fruit in your punch. If it's Valentine's Day, go red or chocolate. Work it in that way.
OK! News: Kathy Wakile explains how to have a better relationship with your family.
OK!: Do you have any advice for someone trying to figure out what their cocktail is?
KW: Don't be afraid to try. Though don't try all different ones on the same night! See what you think. Take a sip of something. Don't always go to the same thing. If you like one, don't try something else that night. Otherwise they're going to be peeling you off the floor!
What's your favorite cocktail? Do you experiment with different liquors? How would you make a red-velvet cocktail? Tell us in the comments below or tweet us @OKMagazine.