NEWS
Katy Perry on Babies With Russell Brand: "If It Doesn't Hurt, I'll Keep Popping Them Out"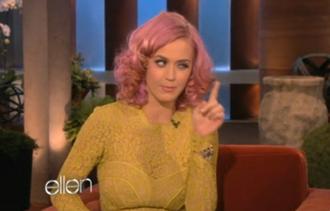 Katy Perry and Russell Brand have just celebrated their one year anniversary and now it's time for babies!
Katy opens up about making with Russell on The Ellen DeGeneres Show!
OK! NEWS: KATY PERRY SAYS CHILDREN WITH RUSSELL BRAND ARE IN "THE VERY FAR FUTURE"
"I would love to have children. I think that's one of the reasons you get married," the 27-year-old superstar tells host Ellen DeGeneres on her show Friday. "Especially to the person that you marry. You think, that person is going to be a good partner, a good parent. But, I'm not sure it's time yet. We'll see, ya know?"
Article continues below advertisement
Katy added, "If it doesn't hurt the first time, I'll keep popping them out!"
But right now Katy is very busy with her career, and has a big surprised for fans who want to see her California Dreams tour — a free concert at the Staples Center in L.A. on November 23.
OK! NEWS: LADY GAGA'S URINAL & KATY PERRY'S CLOTHES — HOW MUCH WOULD YOU PAY FOR A TASTE OF CELEBRITY?
"I am giving thanks to all of my fans. This is my big announcement on Ellen that no one has heard about or knows about," the singer said. "I played 121 shows up in to the 23rd date, and I want to finish it off by renting out Staples myself and giving a free concert to anyone in the world that wants to come to the California Dreams tour as my last show."
Watch a clip from Katy's interview with Ellen HERE!