NEWS
'Kendra' TV Recap: Kendra Gets Insecure with Her Girlfriends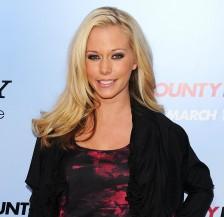 Kendra Wilkinson Baskett may be a self-confessed tomboy but even she felt the the need for "some girl time", on last night's Kendra.
"I've been stuck with boys so much. I feel like a boy sometimes," Kendra declares. "I need my girls." Enter her old Playmate pals including Brittany Binger, Tiffany Fallon, and Jessica Hall.
OK! NEWS: KENDRA TWEETS ABOUT BIKINI SEASON
While Hank decamps to a hotel to prepare for his next football game, Kendra confesses: "It felt so good to see my friends again."
Article continues below advertisement
Meanwhile, Hank explains to Kendra and her friends how important the game is: "It's playoffs now and it's win or go home," as the Colts face Baltimore in the NFL playoffs.
OK! COVER STORY: KENDRA "HOW I LOST ANOTHER 10 POUNDS"
"Even though I am a die hard Chargers fan, I wanted Hank to know that I am loyal to him," Kendra says, as she and her newborn Hank Baskett IV both don a Colts jersey.
How did Hank take the female invasion? "The fact that they get to come out to the enjoy the game with Kendra, get loose at the game, Kendra gets to have some fun, and it's a playoff game so everything just falls into place."
OK! NEWS: KENDRA: NOT PREGNANT, NOT DANCING LIKE KATE GOSSELIN
But Kendra is finding it hard to adjust to being the only mom among her friends and begins to feel increasingly insecure about her body.
"I went shopping the other day and I used to be a 23. Now I am a 27. I went from a size 2 to a 27… I started to feel really insecure around my friends because they are so hot," she says.
Article continues below advertisement
"I felt jealous. I felt insecure. I felt sad. I felt mad. I thought Hank would look at some of other girls and think that he wants his wife to look like that.
"Even though I was excited that Hank's team won the game and that they were in the playoffs, I was still depressed. I know it doesn't make any sense, but I was feeling unattractive and my friends being there just made it worse. I was just feeling really emotional."
KENDRA TV RECAP: INSIDE HANK & KENDRA'S FIRST POST-BABY DATE NIGHT
Kendra finally breaks down to Hank, telling him: "I don't feel pretty right now. I just feel ugly," and he reassures her saying, "you are the most beautiful girl in the world...What does it say on this ring Kendra? Forever. There is not going to be anyone to replace you… If I was the one man in this world, you are the only woman I would ever want."
Article continues below advertisement
Feeling better and realizing that, "Our minds are so set to the glamorous life. We are so used to be around and being pretty… being hot and our bodies looking good", Kendra goes out with her girlfriends for a night on the town. She says she knows her friends, "will always have my back no matter what I do."
"Going out with my girlfriends was definitely therapeutic and helped to get all of the negativity out of mind," Kendra gushes as she goes for dinner with the girls and then has a few cocktails and even a cigar.