NEWS
Kevin Garnett Called Charlie Villanueva "Cancer Patient"?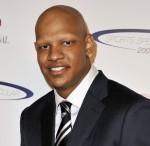 It looks like sports celebrities have Twitter feuds too! Charlie Villanueva took to his Twitter account after the Detroit Pistons vs. Boston Celtics game to complain about a comment Kevin Garnett allegedly said on the court.
OK! NEWS: PEREZ HILTON & DEMI MOORE DUKE IT OUT ON TWITTER
Trash talking isn't really a new concept to be heard on the court, but it seems that Charlie may have taken an alleged "cancer patient" comment personally.
Article continues below advertisement
The Pistons forward suffers from alopecia universalis, which is a medical condition that results in hair loss, ESPN reports.
Charlie apparently Tweeted about the alleged comment to take out his anger.
OK! NEWS: LEVI JOHNSTON FEUDS WITH TONIGHT SHOW OVER TWEETS
But Charlie Tweeted that he would like to see Kevin again.
"KG talks alot of crap, he's prob never been in a fight, I would love to get in a ring with him, I will expose him."