NEWS
Khloe Kardashian Odom Is "Very Protective" of Kim Kardashian: "I Want to Yell at People"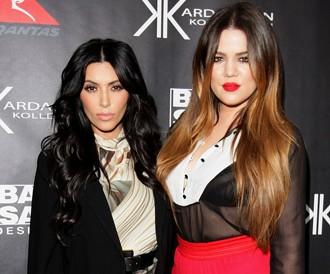 Watch out Kim Kardashian haters. Khole Kardashian Odom will bring you down. Khloe has made it clear that she is very protective of Kim and will support her no matter what.
Kim and Khloe are busy in Australia promoting their new Kardashian Kollection handbag line.
"I am so protective and defensive," Khloe, 27, told Australia's Telegraph on Wednesday, referring to Kim's divorce from Kris Humphries after only 72 days of marriage.
Article continues below advertisement
OK! NEWS: KIM KARDASHIAN'S FIRST INTERVIEW POST-DIVORCE — "I WOULD NEVER MARRY FOR A TV SHOW"
"I want to stand up and say to everyone, 'That's not true,' and yell at people, but I can't do that," Khloe continued. "No matter what, whether you're at your best, you're always going to have your critics saying something."
Khloe had reservations about Kim's nuptials from the beginning, and questioned Kris' intentions for marrying her 30-year-old sister on the family's show, Keeping Up With the Kardashians.
When asked about her intuition that the relationship was flawed, Khloe shared, "I don't know why I was that way, I just was. I'm obsessed with her."
Khloe also revealed that her NBA Laker hubby Lamar Odom — who has accompanied the sisters on their Austrailia trip serving as their "bodyguard" — thinks she has "such an attitude" when it comes to dealing with Kim's divorce drama.
"It's because I feel for my sisters, and it's so hard for Kim," Khloe explained. "Of course it bothers me, especially to hear all the negative comments."
Article continues below advertisement
"When Kim loves, she loves hard, and that's for her girlfriends, that's for anybody," she said. "I really respect that and that's her work ethic. She loves to design, she loves that too — it's not just with a man."