NEWS
Kim Kardashian Handles Flour-Bombing Attack With "Much Poise"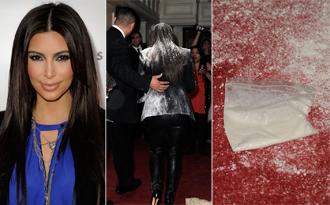 Article continues below advertisement
Deputy Peter Gomez told The Associated Press that Kim said she did not want to press charges against the woman. While the woman was detained by hotel security, Kim simply returned to her room, removed the powder from her hair and clothing and returned to the event!
An eyewitness tells OK!, "Kim handled the situation very well and with much poise. She was very calm and I was very impressed by her actions."
Article continues below advertisement
"That probably is the craziest, unexpected, weird thing that ever happened to me," Kim told E! News after the incident. "Like I said to my makeup artist, I wanted more powder and that's a whole lot of translucent powder right there."
Even though Kim handled the incident with extreme class, her sisters Khloe and Kourtney Kardashian supported her on Twitter.
"I wish I was with my sister tonight. I bet you that woman wouldn't have dared tried a thing..." Khloe wrote.
Kourtney added, "Classy to flour bomb my sister at her charity event helping women. I wonder if they would have dared thrown the flour at my hormonal and pregnant self!"
Are you impressed with how Kim handled the attack?