NEWS
Kourtney Kardashian & Scott Disick: Wedding News!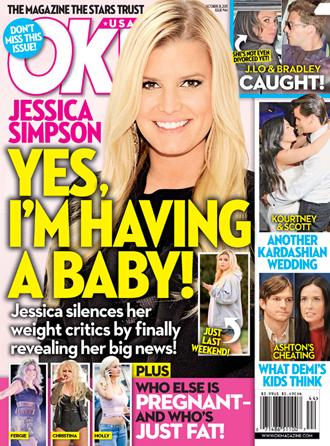 After nearly five drama-filled years together, Kourtney Kardashian is finally ready to marry her baby daddy Scott Disick.
As recently as Oct. 5, Kris Jenner joked on the Today show that she expected the couple to finally run off to Cabo San Lucas, Mexico, and elope. "Cabo?" Scott replied. "Let's try something spicier, like Lake Como, Italy!"
And pals think it may happen soon. "In the past, she didn't put much emphasis on getting married, but the idea has really grown on her," explains a friend in this week's new issue of OK!, on sale everywhere now. "They have talked it to death and she said if it's what Scott really wants, then she wants it too."
Article continues below advertisement
There was a time, not too long ago, when Kourtney's family would have told her that she was crazy to even consider marrying Scott, 28. Back then, the couple frequently fought over Scott's partying, angry outbursts and attention paid to other women.
"When Mason was born, Scott was more of a hot mess, but now he's really turned his life around and been amazing," Kourtney's mother, Kris, has said. "He's such a great partner to Kourtney."
After getting some help to control his anger and partying, Scott has cahnged. Now friends say that he and Kourtney, 32, have never been happier. "They're so funny together," family friend Jonathan Cheban tells OK!. "They're very happy. It's such a great relationship."
FOR MORE ON KOURTNEY & SCOTT'S WEDDING PLANS, PICK UP THIS WEEK'S ISSUE OF OK! — ON SALE EVERYWHERE NOW!