NEWS
Kris Jenner Says 'Saturday Night Live' Had Her "Spot On" in Kim Kardashian Divorce Spoof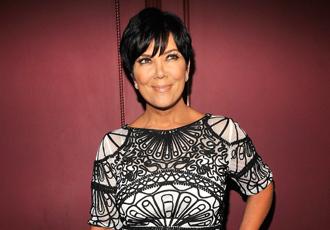 Kris Jenner isn't upset that Saturday Night Live masterminds mocked her family. The Kardashian matriarch found great amusement in the Kim Kardashian divorce spoof.
"Probably one of the funniest things I've ever seen in my life. I hate to admit it, but they had me spot on," Kris — who was played by the hilarious Kristen Wiig — told Access Hollywood Live hosts on Monday of the sketch. "I tell my kids, 'Don't take yourself too seriously.' We have a good sense of humor about ourselves and we were laughing right along with them. It was great."
Article continues below advertisement
OK! VIDEO: KIM KARDASHIAN'S DIVORCE GETS THE SATURDAY NIGHT LIVE TREATMENT
Kris also spoke about Kim's weekend trip to Minnesota, where she met with estranged hubby Kris Humphries — who Kim announced she was divorcing one week ago after only 72 days of marriage — in the presence of the pastor who married the couple.
While Kris said she had "no idea" what happened during their meeting, she did speak out about the report that Kim went to Minnesota to give back her 20.5 carat engagement ring.
Article continues below advertisement
"Reggie's a great guy, I always had a good feeling about Reggie, but I also liked Kris," she said. "I don't know what her choice will be ultimately."
"Kim has a really big heart, she's just trying to do what she thinks is best right now, so we'll see what happens," Kris continued.
She also slammed rumors suggesting that Kris was cast to be Kim's husband, calling the buzz "ridiculous."
OK! NEWS: KHLOE KARDASHIAN ODOM APPLAUDS SATURDAY NIGHT LIVE FOR KIM KARDASHIAN DIVORCE SKIT
"We're talking about two people who have feelings — who have to work through it. She's not the first person in the world who has gone through a divorce," she explained.