NEWS
Kris Jenner Under Fire for "Indian Giver" Comment About Kim Kardashian's Ring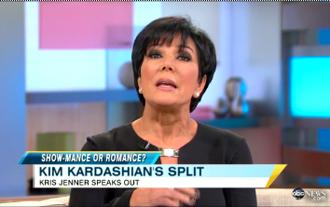 Kris Jenner's promotional book tour has been hijacked by her daughter Kim Kardashian's divorce drama.
The famous momager stopped by Good Morning America Thursday to talk about her new book, Kris Jenner...And Everything Kardashian, but began the interview by discussing Kim's decision to file for divorce from husband Kris Humphries after only 72 days of marriage.
OK! NEWS: KRIS JENNER THINKS KIM KARDASHIAN SHOULD KEEP HER RING? "A GIFT IS A GIFT"
Article continues below advertisement
First and foremost, Kris said she is concerned about her 31-year-old daughter's emotional well-being.
"Kim hasn't been the Kim I know," Kris explained to GMA's Lara Spencer. "She seemed worried, not her happy self. I want Kim back — I want her to be happy."
She also demanded that Kim should be allowed to keep her 20.5 carat engagement ring from Kris — which reportedly cost close to 2 million dollars.
"I hate an Indian giver," Kris said when asked if Kim should return the ring. "It's a gift — you keep a gift."
And it looks like Kris should have chosen her words more wisely, as she is now under attack from a Native American Group for the use of "Indian giver."
"We are not about laying blame. We want to educate people like Kris Jenner that there are certain negative stereotypes in our American imagery and colloquialisms that are hurtful, especially to our youth," Danielle Gaines, the President of Reconnecting the Circle told Radar Online.