NEWS
Kim Kardashian Says She Had to "Follow Her Heart" & Divorce Kris Humphries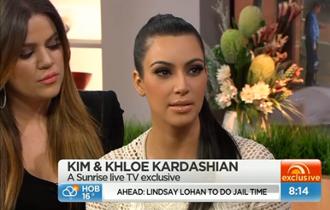 Kim Kardashian is busy in Australia promoting her Kardashian handbag line with sister Khloe Kardashian Odom, and trying hard to stay strong as she makes the interview rounds Down Under.
Of course, Kim has been asked to address her decision to file for divorce from husband of 72 days, Kris Humphries. And one question many want answered: Why didn't the couple try harder or seek counseling to make their marriage work?
Article continues below advertisement
On Monday, the 31-year-old reality star filed for divorce from the NBA player after a whirlwind romance and a wedding on Aug. 20 with a lavish ceremony in front of nearly 500 guests.
The wedding aired in October on E! for the world to see.
Kim did not mention Kris' name once during her interview this morning, but did say the thing that upsets her the most is all the rumors that she made millions off her wedding.
Article continues below advertisement
"I just wanted to stick with my commitment to come out here to Australia," she said. "I love our fan base out here, and of course I do want some time to myself. It's a really tough thing to go through, but I didn't want to bail on everyone and kind of skip out on this commitment here."
Khloe has been standing strong by her sister, "She's being really strong and Lamar Odom and I are here to be her support at this time."
Article continues below advertisement
"I am very disappointed that I am unable to attend the Swisse marquee," Kardashian told Australian paper The Herald Sun, via Radar, "but I hope to come back and work with the Swisse team at another point in time."
Catch Kim's interview below.