NEWS
Kym Johnson's 'DWTS' Diary: So Fun Getting "Greased" Up!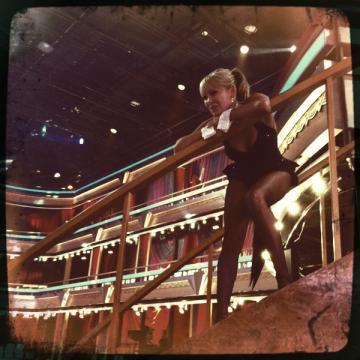 We got a pretty good score last night, and it was so much fun doing Broadway week. Broadway is my favorite thing in the world. Having all the great Broadway songs was so much fun — it was definitely one of my favorites. David really liked it too. It was a really good night, although we didn't do as well as we did the week before, we dropped a little bit, but it's fine. We're still up there and the audience seems to enjoy it.
Article continues below advertisement
KYM JOHNSON'S DWTS DIARY: HAVING A "SCREAM" WITH DAVID ARQUETTE!
David's faovrite Broadway musical is Grease, so that's why we chose it. Olivia Newton-John is Australian so I didn't even need to change my accent! It worked out, I think David was a really good Danny Zuko.
It can be tough, because the show is about criticism, you know you're going to stand there and have the judges critique you. It is difficult, because you put so much time into doing this dance throughout the week and you see how hard your celebrity is working. Mostly it's constructive criticism, so you've just got to take it with a grain of salt and learn from it.
David is working so hard and he really wants to be in that final. He's taking this very seriously. Having his daughter Coco there is great — she's so adorable and always there cheering him on. He's got such a great support there every week, he's really enjoying the competition.
I'm having so much fun, it's the best job in the world. I love doing it for a living, it's amazing. This week I'm totally healthy, I'm all good now, which is good, because now it really gets to be difficult doing two full dances every week.
Article continues below advertisement
I started choreographing last night to get a head start and thinking about what I want to do. If we get through tonight, we'll start working on it after the show. It's a week-to-week thing pretty much, so far as choreography. I have song requests and ideas in my mind but it is pretty much on a week to week basis. It's Halloween next week so that helps the creative process as well. It'll definitely be a lot of fun and we'll be getting into a character for sure!
As for me, in Australia we don't celebrate Halloween as big as you guys do here, so it's fun to be here for it. I found myself really getting into it like everyone does here. This weekend I haven't even thought that far ahead because the show is taking up my whole life. I'm sure I'll do something, I'll have to! I might go as a pussycat or something.
I don't know what's going to happen tonight, this season has been really unpredictable with all the surprise eliminations. I hope we're styaing in but I'm expecting anything right now!
Kym