NEWS
Lauren Conrad Poses Topless on the Cover of 'Glamour' & Talks Life Away From the Cameras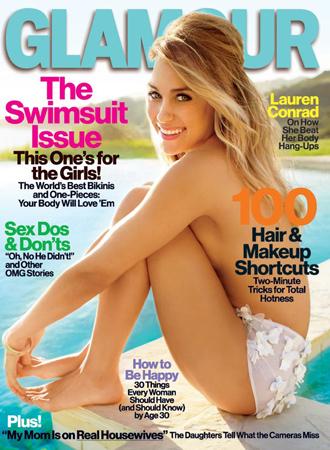 Lauren Conrad looks incredibly in the May issue of Glamour magazine! The former reality star turned fashion designer poses topless on the cover and reveals all about her days on Laguna Beach and The Hills. So was it really all fun and games?
OK! GALLERY: LAUREN CONRAD TRIPS AND NEARLY FALLS IN NYC
"During shooting, the producers would send us quick text messages telling us what to talk about," Lauren reveals to Glamour about her reality shows. "They couldn't walk through the shot, so they'd just text me, like, 'Say something quick about this story line.' That's why we were always checking our phones!"
Article continues below advertisement
As for whether or not she watches re-runs of her MTV hits, the blonde beauty actually admits she never watched herself on TV to begin with!
"I didn't ever watch it," Lauren said of The Hills. "I swear on my life! I only watched the last minute and a half at the finale party."
And although she had a great time with everyone on set, Lauren reveals that now that her reality TV days are over, she doesn't keep in touch with her former friends and castmates.
"The show is what brought a lot of us together," she admits, "and when it was gone, we didn't have anything in common anymore."
Actually, Lauren says she's returned to living a normal life away from the cameras, something she's extremely happy about. Although, there's always paparazzi.
OK! GALLERY: SOFIA VERGARA, LAUREN CONRAD, JOE JONAS & MORE PARTY AT HYDE BELLAGIO FOR NYE
"On the vacation to Cabo, I wore a bathing suit on the beach for the first time in years. Usually I'm just petrified. A couple of years ago someone zoomed in on my cellulite and it was so mean. I took it really personally," Lauren admits. "I haven't worn a bathing suit in L.A. in years because of that."
That's why avoiding the spotlight is what Lauren prefers to do these days.
"The best way to stay grounded is to surround myself with friends and family who knew me way back when," she says. "There's nothing like cleaning my mom's dishes or taking out the trash to remind me that I'm no different than anyone else."