NEWS
Lea Michele Sings Out In Support of Gay Marriage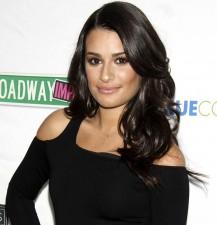 Glee star Lea Michele sang out in support of gay marriage this weekend. The former Broadway songstress performed at an intimate cabaret show that supported Cyndi Lauper's organization, 'True Colors' and 'Broadway Impacts,' a group that pushes for gay marriage, PopEater reports. Lea spoke with PopEater about the event and working on the set of the FOX hit TV show.Lea tells PopEater she had no hesitations about doing the event.
Article continues below advertisement
"The minute I got asked to do it I jumped on the opportunity because even though I get to sing on Glee a lot it's not as much as if I was doing 8 shows a week on Broadway," she says. "I think it's a fantastic organization and I'm a huge fan of Cyndi Lauper's."
The former Spring Awakening star says her life has changed a lot in the last year.
"I no longer live in New York, I live in L.A. I work on TV rather than Broadway," Lea says. "So yeah, being on a television show people see you a lot more than being on a Broadway show. And I'm so happy being on a TV show where I get to sing and dance."
Lea tells PopEater the cast of Glee is a tight-knit group.
"Half of us live in the same apartment complex and some of us are roommates," she says. "They're my family and I love them very much.
As for her best friends, its hard to pick one.
"I've known Jenna Ushkowitz, who plays Tina since I was 8 but I can't just pick one person. They're all there in my life for different reasons."
Lea will be singing a Barbra Streisand song on an episode (airing in a few weeks), that she describes as her "dream song."
"Also we're getting to do Madonna which is really awesome," she says. "We've been really lucky to do so many great people."
One question on every Gleek's mind, Is Rachel going to end up with Finn?
"I don't know! I'm just as curious as you are," admits Lea.