NEWS
Leah Remini Blasts Tom Cruise For 'Being An Awful Human Being To Scientologists'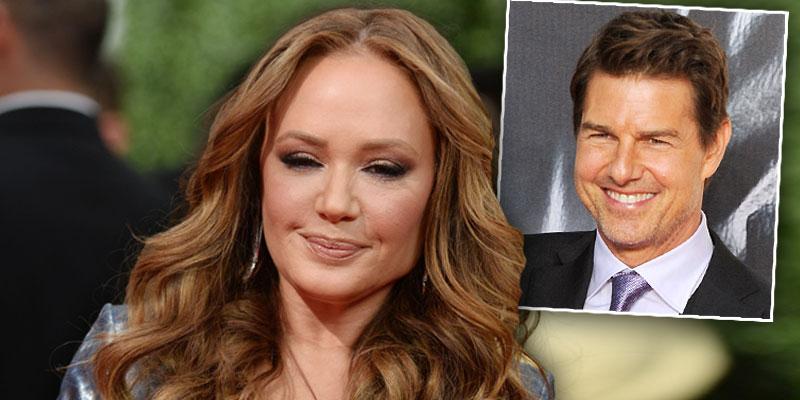 Tom Cruise — who is an outspoken advocate for the Church of Scientology and its three-decades-long poster child — treats fellow church members poorly and is far from his on-camera persona of a loveable hunk, a shocking leaked video has claimed.
In video from a mini-series that was axed before it even aired in Australia, which was obtained by the website The Underground Bunker, Leah Remini, 50 — who fled the church in 2003 and has since been outspoken in leading the charge in the fight against Scientology — looks point blank at the camera and declares: "I've met many people who worked with Tom. They go, 'He's the nicest guy.' I go, 'Bullshit.' Tom is an awful human being to Scientologists."
Article continues below advertisement
'MASTER PLAN': LEAH REMINI CLAIMS TOM CRUISE 'WILL INDOCTRINATE' SURI INTO SCIENTOLOGY
She added: "He's the example of Scientology. They chose the right guy."
Remini has previously accused 58-year-old Cruise of killing the Scientology documentary series, titled Black Ops, in an effort to conceal his connections with spying, schemes and intimidation.
The 10-part investigation was set to feature specific allegations about Cruise and his personal connections to the church's well-known tactics for bullying, according to the Scientology watchdog site Underground Bunker.
It is understood the show intended to focus on the church's notion of Fair Game — policies and practices carried out by the Church of Scientology towards people and groups it perceives as its enemies.
LEAH REMINI CLAIMS TOM CRUISE KILLED SCIENTOLOGY EXPOSÉ TO 'KEEP HIS SECRETS HIDDEN'
Nevertheless, it continues to be leaked on the "black-market." In the most recent episode, it is also revealed how Cruise's second wife, superstar actress Nicole Kidman, was declared a suppressive person — often abbreviated SP, a term used in Scientology to describe the "antisocial personalities."
Article continues below advertisement
Defector Tristan Silverman said she was confronted by Lauren Haigney, the niece of Cruise, at The Delphian School in Oregon, where they both studied as teenagers.
"Lauren Haigney asked me to come into her room at break and I did and she was sobbing," Silverman said. "She was like, 'My uncle and my aunt are getting divorced and I just found out she's an SP.' I was like, 'What? Your aunt, Nicole Kidman?' She's like, 'Aunt Nic is this SP and I had no idea.' I'm like, 'Really?' She was really distraught about it."
THANDIE NEWTON SURPRISED BY SUPPORT AFTER CALLING OUT 'DOMINANT' TOM CRUISE
Remini and Cruise were once close. She attended his Italian wedding to actress Katie Holmes in 2006 and spoke glowingly about him in her 2015 book, Troublemaker: Surviving Hollywood and Scientology, recalling celebrity-filled dinners at his estate.
"I came to think of him as a big kid with his loud laugh, high energy, and goofy ideas of fun," Leah wrote. "Like when he invited some Scientologists and a few other celebrities like Will Smith's wife, Jada Pinkett Smith, to his house and announced he wanted to play hide-and-seek."
Article continues below advertisement
She also recounted how she was able to meet Cruise, for the first time, after donating $1 million to the International Association of Scientology.
"The mere fact that I was fit to be in Tom's presence was a huge compliment. The actor wasn't just an A-list movie star but a pillar of the church," Leah wrote of her first encounter with the actor, whose entourage of "heavily contributing, with-the-program Scientologists" she would eventually join. Though, the actress said that neither Kirstie Alley nor John Travolta were a part of that group, because she claims "Tom didn't like them."
LEAH REMINI CLAIMS TOM CRUISE KILLED SCIENTOLOGY EXPOSÉ TO 'KEEP HIS SECRETS HIDDEN'
This is not the first time Cruise has come under fire in recent weeks because of his ties to the controversial religion.
In the latest episode of Ron Miscavige's YouTube show Life After Scientology, guest and ex-Scientologist Karen de la Carriere labeled Cruise a "corrupt conundrum."
"I feel he is a damn good actor, and I'm not in the camp where I won't see a movie of his. He is a good businessman, but he has made some brilliant moves, and then he has made some stupid moves. This is Tom. Unbelievably charismatic and then unbelievably repulsive in shilling for Scientology — no matter how dark, no matter what the reports are. Tom won't read any of that and is unwilling to look at both sides," de la Carriere said in the episode.