NEWS
Lindsay Lohan's Probation Revoked: Actress Handcuffed & Taken Into Custody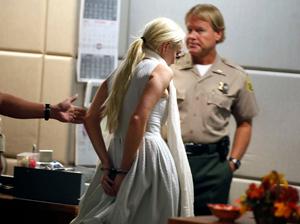 Lindsay Lohan may be going back to jail. The 25-year-old actress was handcuffed and taken into custody today, after the judge presiding over her court scheduled hearing deemed her in violation of her probation, stemming from a shoplifting conviction earlier this year.
Over the summer, Judge Stephanie Sautner sentenced Lindsay to 360 hours of community service at the Downtown Women's Center in L.A., and it was made clear that she had to complete those hours.
Article continues below advertisement
But Lindsay was kicked out of the program, after she repeatedly showed up late to the shelter, or was a no-show altogether. When it was clear to the staff that she was not taking the community service obligation seriously, she was ousted.
At today's court hearing in L.A., the prosecution advised probation be revoked and jail time be implemented. Judge Sautner agreed.
"I am revoking her probation," she told Lindsay, who was dressed conservatively for her court appearance.
According to Radar Online, the judge also set bail at $100,000, and if (when) she bails out, Lindsay is required to immediately begin a minimum of two days a week, 8 hours a day at the morgue. He next scheduled hearing — at which she could be sentence to over a year in jail — is November 2.
"There has been violation after violation," Sautner told Lindsay, warning, "Probation is a gift, it's not a right."
The judge also pointed it out that she found it hard to belief Lindsay made all her scheduled therapy appointments as she was busy traveling to NYC for fashion week, Milan and Paris.
Lindsay's lawyer Shawn Chapman Holley argued that Lindsay had to leave town to work, and that was a reason for her missing scheduled community service appointments.
Do you think Lindsay is heading back to the slammer?