NEWS
Lindsay & Sam in Couples Counseling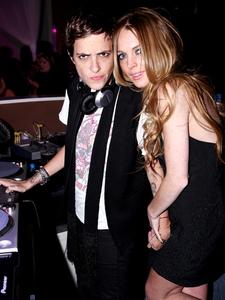 Could there be trouble in paradise for Lindsay Lohan and galpal Samantha Ronson?
The New York Post's Page Six reports that the high-profile twosome are speaking with a couples counselor to smooth over their problems.
According to a source, LiLo and SamRo "are fighting like cats and dogs," and "they fight every day, screaming, crying and yelling at each other."
Article continues below advertisement
Eek, that doesn't sound good -- especially in light of a what seemed to be a few public spats recently. London's Sun newspaper reported that the duo agrued outside Boujis in London after Sam had DJ'ed a show, saying "all hell broke loose," leaving Lindsay in tears after the fight.
Page Six's source goes on to add that "Sam and Lindsay are still very much together and very much in love, but drama just seems to follow Lindsay, and Sam hates it. She deals with Lindsay every day. And every day for Sam means questioning, 'Is this worth it?' "
Another bit of evidence includes a video posted online of Lindsay curtly ordering Sam to "pull the car up" as paparazzi snapped away.
"The things they argue about have to do with their age difference," the source says. "But no matter what happens, at the end of the day, they are always fine."